Eighty years of postcards of couples!
Published on 10 July 2018
Postcards of couples have existed since the concept was invented. It's become a classic to declare one's passion for a loved one, to congratulate a union or to wish a good Saint Catherine's day (with a touch of cynicism)... But this classic has changed a great deal over time, in line with fashion and technology. For fun, we decided to show you a postcard from each decade, from the 1900s to the seventies. We can look back together at how fashions changed over the decades.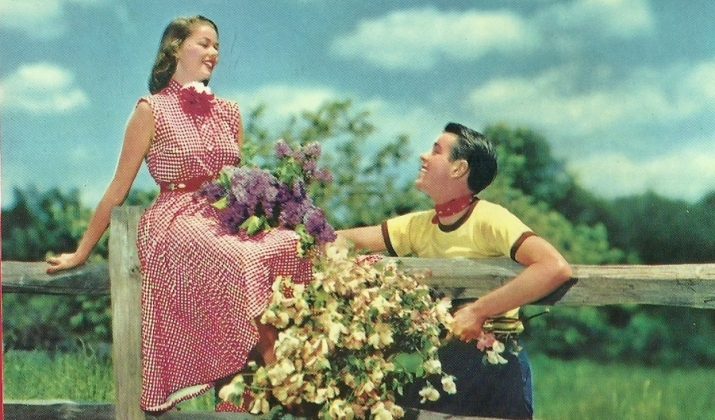 1900 : La Belle Epoque! The couple is clearly elegant. The man has a moustache and is wearing a dark suit, whereas the woman is proudly wearing the lace and frills of her long dress.
1910: The 1910 woman is wearing fewer frills, but is just as elegant in her hat and long dress. The man's garb hasn't changed as much: he's still wearing a dark suit.
1920: The Roaring Twenties! Everyone is dancing the Charleston. Dresses are shorter, showing a little more skin than before. Hats are more discrete. Men wear dinner jackets and less austere suits. Fashion is changing.
1930 : Fashion was more toned down following the stock market crash of 1929. The economy is in the doldrums and the geopolitical climate is heavy. But it's also the start of the famous fedora worn with a suit and tie.
1940: The war years: the suit is popular during this period. The skirt is below the knee and the female silhouette is enhanced to encourage men to come home from the front! If they aren't in uniform, the men wear a suit and tie, with some designs in the fabric. The trend is for hair gel.
1950: A little looser, men start to lose their tie. Women are still wearing skirts below the knee, but will wear more relaxed dresses to go out at night.
1960: Gingham is very trendy. Men give up their suits for jeans! Women begin to show a lot more skin.
1970: Skirts are much shorter, trousers are famously flared and shirts have large collars. Long hair is everywhere. As are high heels, for both men and women.
There, we've closed the circle: 80 years of couples and fashion in eight little photos. Of course, even though it's a bit minimalist and the article is not intended to be exhaustive, we hope that you enjoyed this amusing little retrospective. To see more postcards of couples, go to the Delcampe website!