Back to school: let's have a look at the great new features on the Delcampe website!
Published on 12 September 2019
Goodbye swimsuits and beaches, it's time to go back to school! But this is also the perfect time to discover (or rediscover for the most frequent visitors) the new features that have appeared on your Delcampe website over the summer!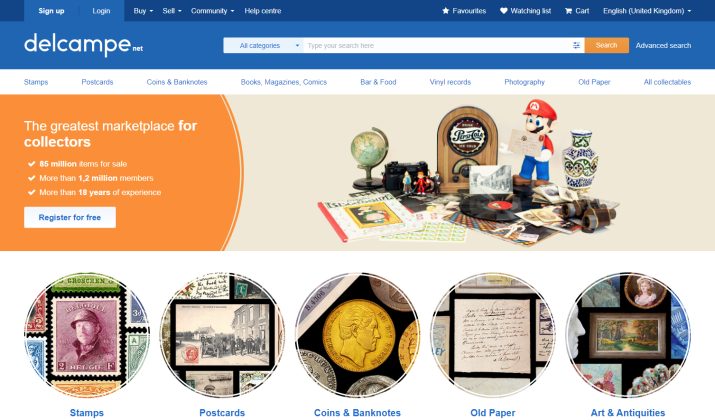 A free and easy tool to improve your images
We know that a good image is very important to sell an item. This is why we have developed a tool for you to crop or rotate your images. No need to use external software anymore: Delcampe offers you the possibility to fix them directly in the selling form. Click on edit and move the dots on the edges to resize your image. Just a few seconds, and it's done! You can also rotate your image if it's not oriented as you wish.
A new homepage
During the summer months, we took some time to refresh the look of our homepage. With more categories showcased and a new, more ergonomic design, it has a lot to offer! Maybe the most noteworthy change for those who connect to the homepage: the login button is now at the top left of the page. You can find more information in the dedicated article, but it is way simpler to explore the new homepage by yourself!
An adapted menu

A new homepage means a new menu. This one consists of 5 tabs:
By clicking on your nickname, you will have access to all the links of your Delcampe account in general as well as to your messages(most of the links that were previously in "My Delcampe" are now included).
"Buy" includes not only searches but also everything related to your purchases (purchase tracking, feedback…).
The "Sell" tab gives access to all the links allowing you to manage your sales as well as the seliing tools.
The "Community" tab will give you access to the blog, agenda and forum.
The Help Centre will answer most of your questions.
A wizard to help you configure your shop
We are making things easier for our sellers. From now on, the setup of your shop will be done in a few clicks. These are the first steps towards a new system that will soon generate your invoices or payment requests automatically. If you wish to check your sales conditions and your shop settings.
We hope you will enjoy these new features and wish you pleasant and successful transactions on Delcampe!