MonacoPhil 2019… Mark your diaries!
Published on 17 July 2019
As every two years, the famous MonacoPhil exhibition will open its doors at the end of the year. This will be a unique opportunity to admire extremely rare philatelic pieces!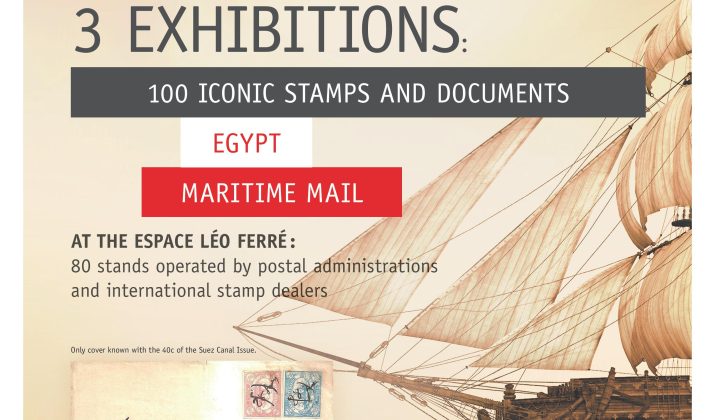 From Thursday 28 to Saturday 30 November 2019, philatelists from all over the world will meet in Monaco for the 11th edition of the MonacoPhil exhibition. Organized by the prestigious Club de Monte-Carlo, this unmissable philatelic event offers exhibitions that, by their quality, will seduce every collector present.
The "100 of the World's most iconic Stamps and Philatelic Documents " exhibition
The Musée des timbres et monnaies (Stamps and Coins Museum) will be the showcase for 100 philatelic jewels. Extremely rare stamps, extraordinary letters and coins stand out in terms of rarity and excellence. Lent by collectors of the highest level, including the Queen of England and the Prince of Monaco, it is simply impossible to see so many such exceptional philatelic pieces gathered elsewhere than in MonacoPhil. This exhibition is not to be missed for anything in the world.
The Exhibition over Egypt
In addition to the "100 of the World's most iconic Stamps and Philatelic Documents ", three exhibitions will be presented to the public. The first of these concerns Egypt. It should be noted that Egypt has always been a strategic crossroads for philately. The country was in charge of the postal service in the Ottoman Empire and the documents that you will be able to see in this exhibition are quite simply incredible. Indeed, whether in terms of its offices or its strategic position in the maritime and air mail sector, Egypt is a first-rate philatelic nation.
In addition, Egypt was fortunate to have philatelists kings (Fouad and Farouk) who held a quite remarkable collection. The exhibition therefore seems very promising.
The exhibition about Maritime Postal History
Maritime mail is an exciting and wide-ranging subject. This is what you will be able to discover thanks to the exhibition on this topic presented during this MonacoPhil 2019 exhibition. Unique mail pieces that have travelled the world, taking into account the different sea routes, are just waiting to be discovered.
Thus, you will be able to admire letters that crossed the seas between 1700 and 1878. As maritime mail is a subject that concerns most countries in the world, each visitor will certainly have an incredible philatelic piece to discover in the exhibition.
Youth exhibition
Philately has a reputation as a hobby of the older generation. MonacoPhil encourages young people to take an interest in it. This year, for the first time, young collectors from all over the world will have the opportunity to exhibit their collections in the prestigious setting of Le Rocher. Will it help create new vocations? That is obviously what we hope!
We hope that this article has made you want to participate in this exhibition. We will be present and look forward to discovering all the philatelic treasures that will be presented there.
Of course, many international dealers and auction houses will be present to help you find some rare jewels that are missing from your collection.
Pratical information:
Addres:
Musée des Timbres et Monnaies et Monaco Top Cars Collection
Terrasse de Fontvieille
Monaco
Shedule:
From Thursday, November 28 to Saturday, November 30, 2019 from 10:00 am to 5:30 pm.
More information on www.monacophil.eu