The Vintage Family reminds us that an item can belong to several collections at once!
Published on 10 April 2018
Welcome to the Vintage Family's world. Gramps, Alex, Claudia, Laura and Tom will be your new guides to the collecting world. Every month, in a few panels, they'll tell you stories about the things that can happen to a family of collectors. We hope you'll like them.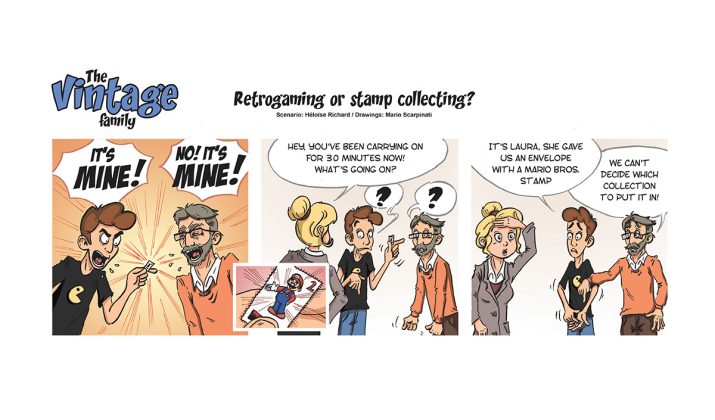 Items in several collections
We don't think about it often enough, but items can pop up in several different collections. One person in a family can collect stamps, another video games, and they can have an item in common, as presented above. That's why I wanted to talk to you about it.
Stamps on every topic
It may be Game of Thrones, Star Wars or another theme: stamps have long used themes from modern collections. A new way of getting collectors interested in stamps.
One theme…dozens of items
Does your grandson love comic strips? There are many stamps based on comic strips. Just take a look at the Delcampe Magazine to see. Whether on purpose or not, the author has worked for stamp collecting in every, or nearly every, issue. And there's more to it. Figurines, pins, charms, postcards…comic strip fans have lots of choices to complete their collections.
Do you collect video games? Same deal! There are figurines, posters, telephone cards and other collection items that can be of interest to you.
Vinyl record and music collections are also a living example. It's easy to find other collections built around an album release or a tour.
They are just some items among many others. Just type in the name of a theme on your Delcampe website homepage to see…No matter the collection, Delcampe brings you together!
Come together with younger generations around collecting
In my previous article, I talked about how collecting can bring families together. Think about it and be creative with your gifts: why not offer a collection item of interest to a family member who isn't expecting it?
For example: several members of the Delcampe team love Harry Potter. We've seen cups, socks. t-shirts, scarves, as well as stamps, coins and postcards in this collection.
It's your turn! Find the gift that will hit the mark on Delcampe!