The 20-mark gold coin, a safe bet
Published on 26 January 2023
The German mark was officially created in 1873. However, the first coins were struck in 1871. Following the defeat of the French in 1870, the German States unified to create the second German empire. They decided on a new currency at the time: the Reichsmark. However, although the country was unified, the Reichsmark was struck in seven principalities, 54 kingdoms, six grand duchies, five duchies and three free cities.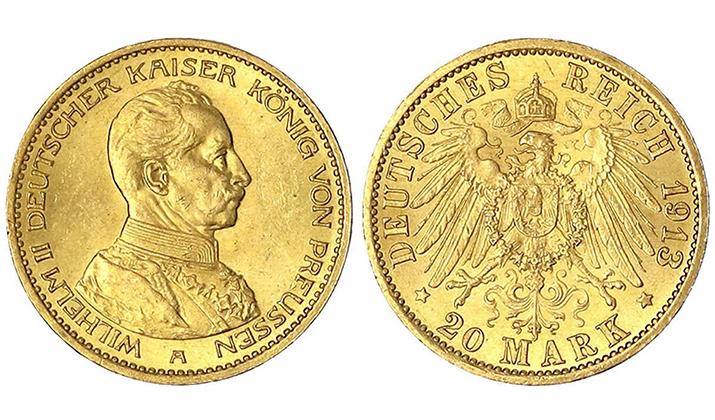 The most common coin was the gold 20-mark piece with the effigy of Emperor Wilhelm II wearing a cuirassier's uniform. The obverse of the coin bears the inscription "Deutscher Kaiser Konig von Preussen" which translates as "German Emperor, King of Prussia". The reverse of the coin bears the eagle and the collar of the Order of the Black Eagle .
The coin was struck on a regular basis from 1871 to 1915. In contained 7.16 g of gold. It was discontinued during the war and was withdrawn from circulation after the abdication of Emperor Wilhelm II following the German defeat in the First World War in 1918.
Other gold coins from the same period.
Although the coin with the effigy of Wilhelm II was by far the most common coin, others were struck in Bavaria, in Hamburg, in Württemberg, in Baden and in Saxony.
Discover the collection on Delcampe!