The Queen opens new RPSL headquarters
Published on 4 December 2019
Press release from RPSL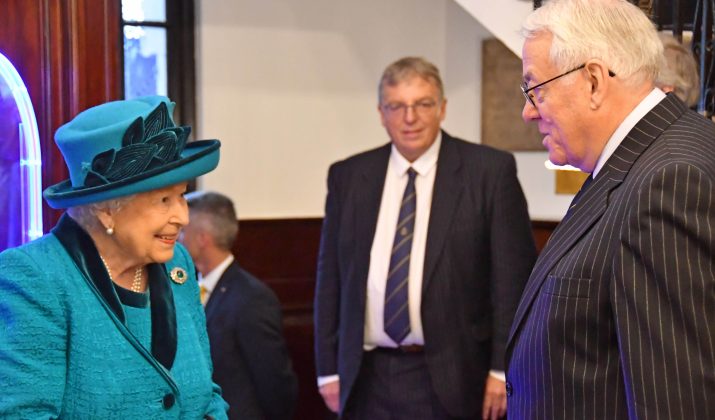 On Tuesday, 26 November Her Majesty the Queen, graciously visited 15 Abchurch Lane to open officially the new headquarters of The Royal Philatelic Society London. Her Majesty was greeted by The Lord Mayor, Alderman William Russell as Lord Lieutenant, who presented Mr Richard Stock FRPSL, President of the Society, to Her Majesty together with Peter Cockburn FRPSL and Mike Roberts, FRPSL, Vice-Presidents, and Patrick Maselis RDP FRPSL, the immediate Past President.
The Queen then met those closely involved with refurbishing the new premises and organizing the move that took place during the summer, notably Christopher King RDP FRPSL and Brian Trotter RDP FRPSL.
It was fitting that The Queen's visit took place during the Society's 150th anniversary as Her Majesty had previously visited the Society on 14 April 1969 to mark its Centenary.
The Queen toured the new premises and Nicola Davies, the Head of Collections, showed Her Majesty some of the important artefacts held by the Society, including the letter from the future King George V to Lord Crawford regarding the use of the Royal prefix in the Society's name.
In the Meeting Room on the first floor The Queen viewed a special display of material from the Society's Philatelic Collections, and a selection of the Society's extensive publications. Representatives from some of the eighty countries where members reside were presented to Her Majesty and she showed great interest in the work undertaken by the Expert Committee. Her Majesty heard how the Society is encouraging collecting among young people.
The Queen visited the Society's Philatelic Library, amongst the finest in the world, where Her Majesty was presented with a copy of the recent publication A History of the Royal Philatelic Society London 1869-2019.
Throughout her visit The Queen met members of the staff, Officers of the Society and many of the volunteers who ensure its position as the premier philatelic society in the world.
The President thanked Her Majesty before she signed the Attendance Book and unveiled a plaque to mark the official opening of the new premises.