A fitting celebration of 150 years
Published on 30 April 2019
Press Release from RPSL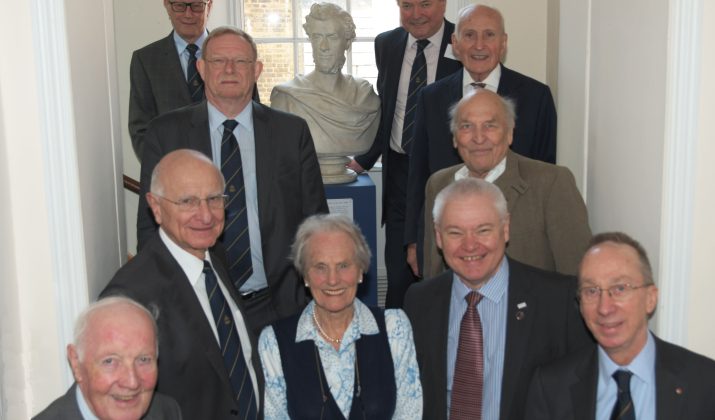 A meeting that took place in London on 10 April 1869 heralded the birth of what is now The Royal Philatelic Society London. This important milestone in international philately was celebrated by a Foundation Day lunch at Stationers' Hall, appropriately enjoyed by 150 members and guests.
The following day, 11 April, a very special afternoon of displays marked the 150th anniversary, featuring material from the Royal Philatelic Collection, shown by gracious permission of Her Majesty The Queen, and from Past Presidents of the Society. It was one of the last events to be held at the Society's premises at 41 Devonshire Place before the move to 15 Abchurch Lane in the City of London this summer.
The material from the Royal Philatelic Collection recalled a Paper that was read to the members of the Society on 4 March 1904 by HRH Prince George, Prince of Wales, (later King George V) on 'the stamps of the Mother Country issued as a consequence of the accession to the throne of King Edward VII'.
The Past Presidents who provided material were:
Patrick C. Pearson RDP Hon FRPSL (President 1988 to 1990) – Norfolk Postal History of the 16th to 19th century;
Dr Alan K. Huggins MBE RDP Hon FRPSL (President 1990 to 1992) – The Introduction of Postal Stationery by Mauritius;
Jane Moubray RDP Hon FRPSL (President 1996 to 1998) – Great Britain: The Line-engraved Twopence Blue of 1841;
Gavin Fryer RDP FRPSL (President 2000 to 2003) – Kingdom of Denmark;
David Beech MBE FRPSL (President 2003 to 2005) – research books and articles;
Christopher G. Harman RDP Hon FRPSL (President 2005 to 2007) – The Early Issues of Peru;
Alan N. Moorcroft FRPSL (President 2009 to 2011) – Channel Islands, Colchester and Sicily;
Brian Trotter RDP FRPSL (President 2011 to 2013) – Aspects of Southern Africa Postal History to 1910;
Christopher M. B. King RDP Hon FRPSL (President 2013 to 2015) – Copenhagen Telephone Kiosks 1895-1980;
Frank L. Walton RDP FRPSL (President 2015 to 2017) – Great Britain: Queen Elizabeth Wildings.
Those attending were also treated to a Victorian tea during the afternoon.