Record number come to the Royal
Published on 7 March 2022
Press release from RPSL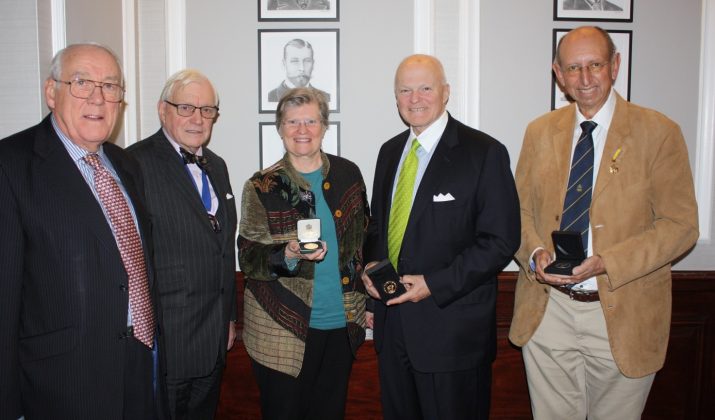 Over 300 members and guests visited the home of the Royal Philatelic Society London at 15 Abchurch Lane in the City of London for a special meeting on 24 February to coincide with the London 2022 International Stamp Exhibition. In the frames were displays from 40 of the Society's overseas members, representing eighteen different countries.
The displays had been co-ordinated by Jon Aitchison FRPSL, Hon Secretary of the Society, with each contributor being presented with a certificate and medal by Richard Stock FRPSL, Past President of the Society. Richard was President when the exhibition, and hence this meeting, were initially scheduled to be held two years ago.
The opportunity was also taken of presenting three recent overseas recipients of awards by the Society, this being their first opportunity to come to London in the past two years. First was Cheryl Ganz RDP, FRPSL, receiving the Lee Medal for the best digital presentation, namely 'Zeppelin LZ-129 Hindenburg On Board Post Office'. Naturally there was a long period when the Society could not hold normal meetings: Zoom meetings filled the void, and will continue to be part of the annual programme.
Keith R. Klugman FRPSL received the Tapling Medal for his article in The London Philatelist on 'Natal: Use of 1857 Embossed Stamps'. Finally James P. Gough RDP, FRPSL was awarded the Crawford Medal for his work The Postal History of the Universal Postal Union: The Postal Card (Worldwide) 1869-1974.
Following the presentations those present were able to enjoy a superb buffet kindly provided by Spink.