The flying bicycle!
Published on 25 July 2023
I was about to settle in to pen a nice article for the summer about cycling and the Tour de France when I came across two postcards that showed a rather original idea: the flying bicycle. It's a most unusual theme... Why don't I tell you about it?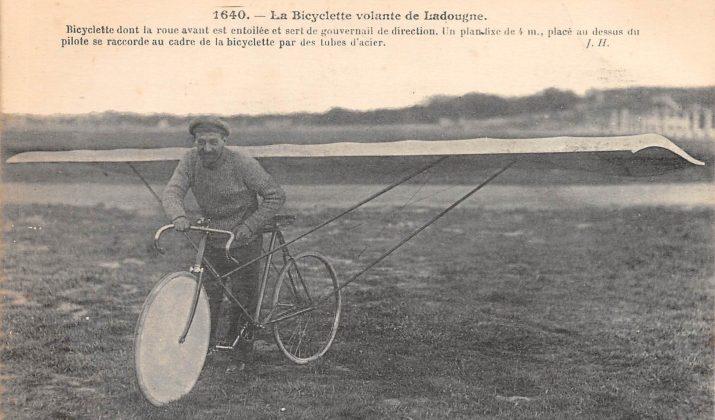 Contrary to what you might think, the bicycle is not very old. It dates from the beginning of the 19th century, from 1817 precisely, and its inventor was German baron Karl von Drais. From its inception, the bicycle or velocipede would be continually enhanced, allowing it to go faster and further. And that's where the idea of the flying bicycle came from, as if straight out of a drawing by Leonardo da Vinci!

Here we are in Ouistreham, a town in Normandy, France. The Count of Puiseux, who lives there, had the idea of creating a flying bicycle in 1909. According to the caption
on his postcard, 4 tubes are affixed to the bicycle, supporting the body of the craft, which is composed of a long bamboo spindle 5m long. At the front, the propeller has a diameter of 1m10.

Two wings are attached to the body, forming the lifting surface. The wings have a total surface area of 3.5m and are made of bamboo and continental canvas. The entire craft weighs no less than 33kg. Add to that the weight of the pilot, and you can see it will take a certain amount of force to move it!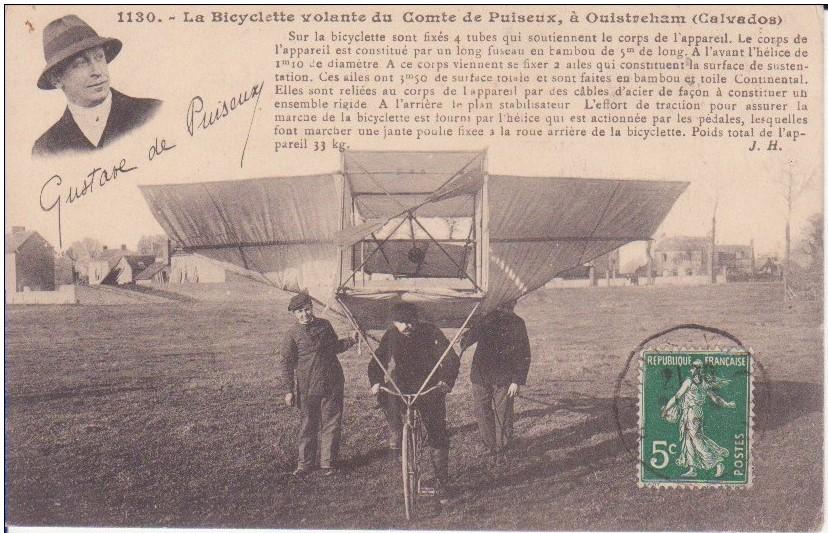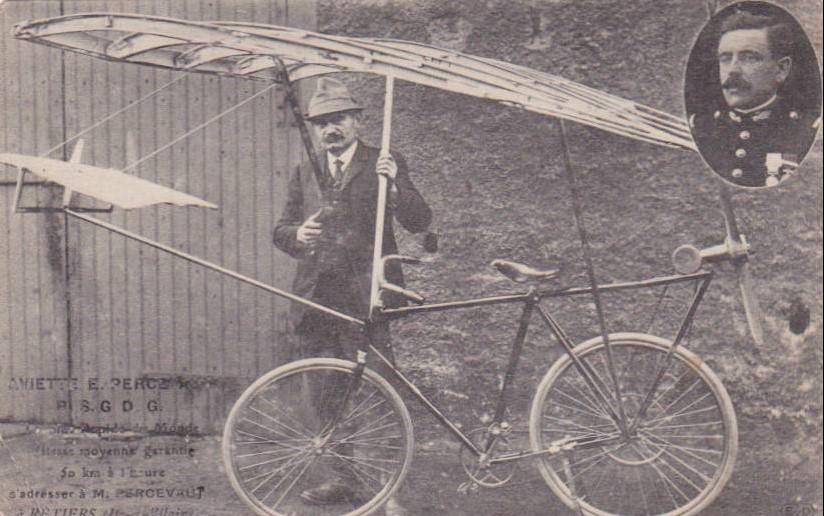 Simultaneously, a certain Mr. Ladougne also created a flying bicycle which, according to the legend on the postcard, has a canvas front wheel serving as a rudder. A 4-metre fixed plane, placed above the rider, connects to the frame via steel tubes.
And they are not alone! German Hans Richter was able to create a flying bicycle capable of gliding short distances and many others tried their hand at this technique. I was not able to find any pictures of the bicycle in flight. We are doubtless still a long way from replicating the prowess of Steven Spielberg's famed alien E.T. on the big screen. However, these postcards are a source of inspiration when it comes to mankind's ability to create new technologies. It may well be that our great-great-grandchild ren will be going to school (if such a thing still exists!) on a flying bike!