Kropemann and Melusina, at the heart of the myths and legends of the Europa competition
Published on 20 June 2022
This year, the theme of the Europa competition is the stories, myths, legends and tales of European countries. The competition had already used the same theme in 1983 and in 1997, with the legend of Melusina and the hunter of Hollenfels.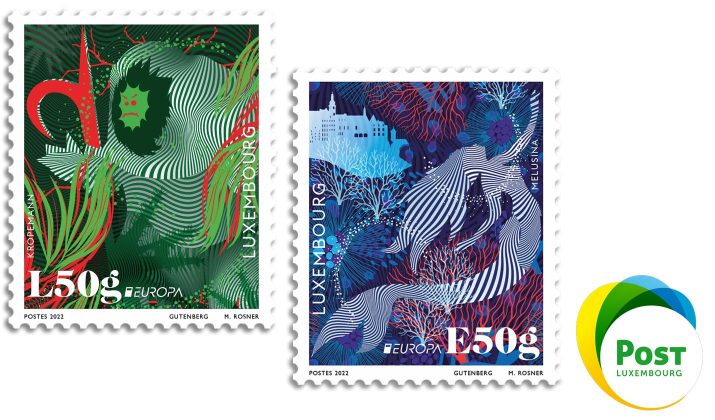 This time, Post Luxembourg decided to present the mermaid Melusina again, as well as the story of Kropemann.
Melusina
The story of the mermaid Melusina starts with her wedding to Siegfried I, founder of Luxembourg in the 10th century. According to legend, Melusina would only wed under two conditions: she would stay close to the Alzette River and be alone at noon on Saturdays. However, Count Siegfried was overcome by curiosity and eventually broke his second promise. He looked through a keyhole and saw that Melusina had a fish's tale. She realised that he was there and disappeared. According to the legend, she reappears every seven years to add a stitch to a shirt. The end of her work will coincide with the flooding of the city of Luxembourg by the overflowing Alzette. Fortunately,
the city is still there!
Kropemann
The other legend, the one about Kropemann, tells the story of a spirit who lives in the water and drags children in when they come too close. Over time, this terrible creature has become the mascot of the municipality of Redange and a symbol of clean, preserved nature. The theme is dear to Post Luxembourg, which has also created a stamp for greener cities.
The two stamps were created by Miriam Rosner and printed by offset. Post Luxembourg is taking part in the competition with them, and paying homage to these two legends of its folklore. We wish them much success!
Discover the others issues of Post Luxembourg :