Mucha postcards celebrate women!
Published on 2 May 2018
Everyone knows Alphonse Mucha! We owe this great artist many postcards featuring beautiful women. He also made a very definite impression on postcard collecting.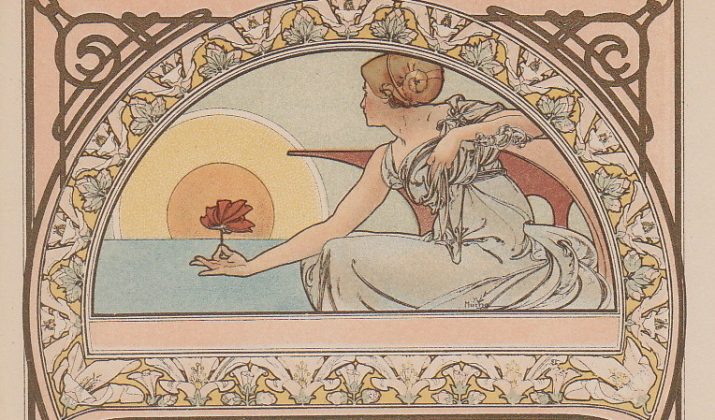 Mucha's oeuvre
Mucha is one of the greatest artists of the Art Nouveau period. He decorated theatres, churches and castles and used his drawings in stained glass windows to create impressively beautiful works.
Mucha celebrated women! He dressed them in sumptuous fabrics and crowned them with flowers. All in pastel tones that made them soft and luminous. He surrounded them with sunshine, nature and, as a talented poster creator, also provided a frame for his illustrations.
Mucha's art fell out of favour after he died and for the following twenty years. His style was unique. He was imitated many times, but never equalled and his talent brought him well-deserved recognition.
Many of Mucha's works were used for postcards which are now selling at record prices. Many museums are paying homage to him…
Mucha postcards
F. Champenois published seven packs of 12 Mucha cards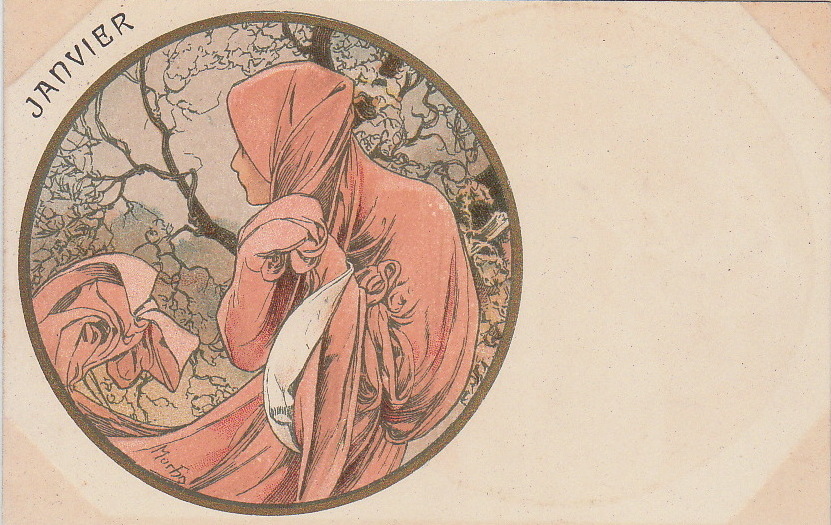 between 1900 and 1901. This first print run is extremely rare and, of course, the most sought after by collectors. After this first success, he printed larger runs which, unfortunately were of somewhat less quality.
It's generally agreed that there are about 230 original models of cards drawn by Mucha, which sometimes appeared as adverts. Of these, 99% were not intended to become postcards. They were often lithographs that were later used for cards. According to Clément Maréchal, a distinction must be made: 130 models are from Mucha's French and American period and the remainder from his Czech period. Note that there has never been an exhaustive catalogue of Mucha's oeuvre and new works are still being discovered today: 230 is an estimate.
Other than Sarah Bernhardt, none of his other models were well-known.
Mucha's beginnings: rejected by the Academy of Fine Arts!
Mucha was born in 1860 in Ivancice, Moravia (currently the Czech Republic and formerly part of the Austrian Empire). As an artist, painter, decorator and illustrator, he is clearly associated with the Art Nouveau movement.
His application to the Academy of Fine Arts in Prague in 1878 was rejected. He was advised to try a different career path. But, Mucha persisted. After undertaking a few decorative jobs in his native region, he moved to Vienna in 1879. He worked for a large theatre design company while studying art. He was fired when his company's largest customer, the Ring Theatre, burned down.
However, luck was with him: he met Khuen Belasi soon afterwards. The latter had a decisive impact on his career by entrusting him with the decoration of Emmahof Castle. After he completed the project, Khuen's brother Egon Belasi asked him to decorate Candegg Castle. In 1885, with the second Belasi brother as his patron, Alphonse Mucha entered the academy in Munich.
He then moved to Paris in 1887. He continued his studies at the Julian Academy, then at the Colarossi Academy. During this period, he also worked on advertising posters and illustrated books, catalogues and calendars. His first publisher was Lemercier, a French publisher/printer who specialised in maps.
Arrival in Paris
He had the good fortune of arriving in the City of Lights just before the Universal Exhibition (1889). The economy was growing and the advertising industry was looking for talented artists. Mucha worked for shops, salons, champagne brands…He soon left Lemercier to work with the publisher/printer Champenois. He created many works for him. The latter often used the same Mucha works several times over: on their own and for advertising. An example are the many advertisements for La Belle Jardinière which were based on works not specifically created for that purpose.
Clément Maréchal, the owner of the house of the same name which specialised in Mucha's work explained that "With the exception of certain orders such as the Champagne Moët et Chandon and Cognac Bisquit postcards, the advertising was created from existing lithographs. In fact, he received very few orders for exclusive drawings from brands."
In 1894, Mucha created the poster for Gismonda, which Sarah Bernhardt was preparing for. The famous actress was so taken by the poster that she signed Mucha to a six-year contract, enabling the illustrator to increase his international reputation.
From the United States to Czechoslovakia
Mucha married Maruska Chytilova in 1906. He left France around this time and moved to the United States, where he lived four years. It was probably to follow his friend and customer Sarah Bernhardt. Alphonse Mucha didn't become famous in the United States, but encouraged the creation of the Slav Committee.
He also met a new patron, Charles Crane, a wealthy businessman who provided him with the funds he needed to complete "The Slav Epic" which was very important to him. Mucha then moved to Prague.
He was commissioned to draw the stamps and banknotes of the young country when Czechoslovakia gained its independence after the First World War.
He died of pneumonia at 78.
Discover the Mucha postcards for sale on Delcampe!