STAMPEX 2022
Published on 20 September 2022
Stampex 2022 edition will take place next week! 28th September - 1st October. Dear philatelists, don't miss it!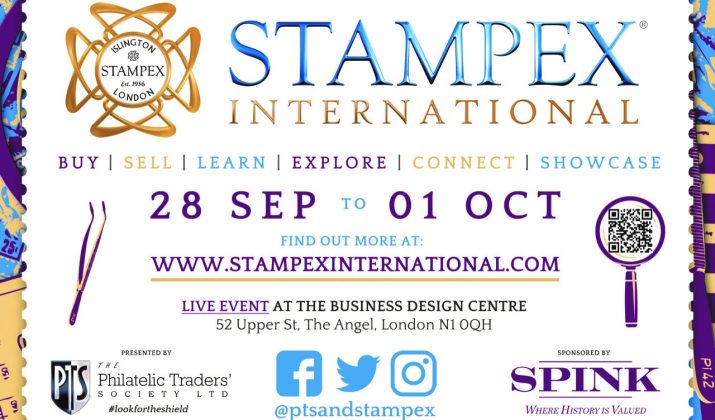 Stampex 2022, proudly sponsored by Spink, is set to have more stands and even more philatelic attractions than last year. A full list of exhibitions, events and talks will be announced nearer the time or sign up to the newsletter at www.stampexinternational.com/signup
Meet the PTS Member
With 80+ PTS Members taking part, the show will be packed with dealers, auction houses and businesses, including Spink, Royal Mail, Stanley Gibbons, Michael Chipperfield, Glasgow Stamp Shop, BB Stamps, Doreen Royan, Philasearch, Laser Invest, Colonial Stamp Company and more.
New Tables
At the "clock end" the main Mezzanine floor, you will find a wonderful new 'Table Top' zone. Here you will be able to meet with those individuals you will have previously seen on the gallery bays including GB Naval Stamps & Covers, Benstamps, Philangles, Thames Themes, Stephen T. Taylor, John Curtin Stamps, Ian Perry Stamps and Thematix to name a few.
eBay Auditorium
The eBay Auditorium will be host to daily Stampex Talks throughout the show. The full talk schedule will be announced at the end of August but expect to listen to Curators Chris Taft and Daniel Piazza, the British Library's Richard Morel, Christopher Harman, Ian Shapiro and others.
Court of Honour
We are delighted to be showing Christopher Harman's Chalon Heads collection.
World Postcard Day
Hosted on Saturday 1st October, we will be celebrating World Postcard Day with a dedicated postcard and a Postcrossing Meet Up!
Exhibitions
The ABPS organised competitive exhibitions with the lead theme focusing on Africa will showcase over 250 faces of national exhibition level material. More information is online at www.abps.org.uk
Bill Barrell
Head to stand 69 to meet line engraved experts, Mike Williams and Graham Stockdale who will plate your 1d blacks and 1d reds free of charge.  Also, if you have any 'oxidised' GB line engraved stamps then they will reverse the chemical reaction for you – watch them put 1d blacks into water!
#xtremephilately Interactive Display
Want to give xTreme Philately a go? We will be hosting a special display of some of the very best #xtremephilately images to admire and inspire.
Global Philatelic Network and the GBPS
Head to the Global Philatelic Network's stand at Stampex where you will also be able to meet and learn more about the Great Britain Philatelic Society.
Society Day
On Saturday, we have a whole host of societies scheduled to meet including the GBPS, Philatelic Congress of Great Britain Study Group, Ceylon Study Circle, Egypt Study Circle and East Anglia Postal History as well as others. This is a great opportunity to join a new society or meet them face-to-face.
Youth Zone
The Youth Zone and Stamp Active are back.  The kid's auction is scheduled for 2pm on Saturday 1st October and is a big hit with the younger generation, as they are able to bid on lots and enjoy their very own auction.
GENERAL INFO
Please find all details about the event and register your attendance at:
https://www.eventbrite.co.uk/e/stampex-2022-tickets-255288553937?aff=Delcampe
Early Bird price: £10.00 ticket opening day (includes show guide)
Free Entry Thursday – Saturday and families welcome
VENUE
THE BUSINESS DESIGN CENTRE, 52 UPPER STREET, ISLINGTON, LONDON N1 OQH
Nearest Tube Station-Angel Islington (Northern Line)
DATES/TIMES:
Wednesday 28th September: 10:30 – 17:30
Thursday 29th September: 10:30 – 17:30
Friday 30th September: 10:30 – 17:30
Saturday 1st October: 10:30 – 16:00