The postcard barometer
Published on 26 September 2022
We are very pleased that Herbert Fischer has accepted to give you a regular update on the evolution of the postcard collection market on our blog. The articles are produced with the kind support of the Daniel Stade auction house.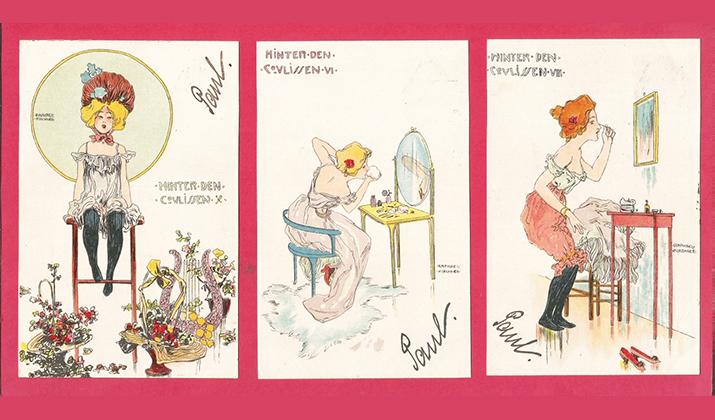 You've certainly already noticed that, at this time of the year, you often read in many specialised magazines that, since the days are getting shorter and the evenings longer, collectors will be able to again dedicate more time to their passion. Looking back at the summer that just ended, it was certainly not very motivating, or was it recommended, to take care of stamps or postcards. With temperatures soaring to 40°C, stamps were literally sticking to fingers! And the heat could also leave visible marks on your precious postcards. However, the summer months are a perfect time to reflect on the future of your collection for the new "season"!
Clean up and make other collectors happy
I also reflected on this question and I decided to do a big cleaning! As a collector, you are likely familiar with this state of things: a small box here, a bag there, a few duplicates, and so on… In other words, you've stored many items away in cabinets that will probably never be used for your own collection. My recommendation: get rid of these items, offer other collectors the opportunity to acquire them and make them happy! Someone else may be able to fill a long-standing gap in their collection.
Delcampe is certainly the right website to easily offer thousands of collectors around the world items that you no longer need. There will be two benefits for you: your most important items, your most beautiful collection or your recently acquired items will again be highlighted, once the useless surplus has been removed. The second benefit, is that the budget you have available for your collection will increase again! You'll be able to acquire other items that are missing from your collection!
Expanding the horizons of your collection…
You may have been asked yourself over the summer months how you could complete or expand your collection(s). Here's a tip: take the time to examine a few categories of stamps or of postcards that you haven't really been collecting! New inspiration and ideas usually come about when you start looking at offers in other collection fields than your own. Expand your horizons! The diversity of subjects is enormous in the field of historical postcards in particular! Over the decades, virtually every topic imaginable has been explored on postcards.
…or refine the subject of your collection!
There are, of course several topics at the heart of many collectors' interests. For example, classic greeting cards sent at Christmas, the New Year, Easter, and other holidays. There is significant interest in these cards and there are likely several thousand collectors interested in them around the world. However, have you considered focusing in on a small section of this diversity to look for postcards which will make an exciting and interesting collection? It will be a very personal collection and there may be none other similar to it! I'm sure that it will bring you a great deal of pleasure and joy.
I must acknowledge that it was a collector of a certain age who gave me the idea a while back with their collection: they brought together a multitude of magnificent postcards featuring a parachute or a skydiver in some way or another. In this case, they were not, however, military postcards from the First or the Second World War but primarily happy, humorous postcards. For example, the Easter Bunny parachuting in to deliver a basket of multicoloured Easter eggs, or Santa Claus jumping from an aeroplane with his gifts for the children. A postcard showing a husband jumping from an aeroplane to escape his angry wife is bound to make you smile.
Be creative and find a topic that interests you. But, don't forget that the more specific your topic, the more difficult it will be to find the right postcards… On the other hand, you will be that much happier when you find a new postcard to enrich your collection! There is nothing more boring than a collection you complete in no time because the postcards are so readily available.
I hope that I have encouraged you to find a new collection topic! Delcampe provides many opportunities in this respect.
Anniversary: 60th Stade auction on Delcampe
In addition to private sellers and specialised vendors, the major auction houses also present beautiful items on Delcampe. They include the Daniel Stade auction house, among others, in the field of historical postcards. In the latest Postcard Barometer, I already drew your attention to the upcoming anniversary sale: the Stade house is currently offering more than 17,000 lots for which, as usual, bids can easily be made on Delcampe. As Daniel Stade explained during a brief personal interview, interest in the current sale is particularly high because many spectacular lots are being offered. For example, a postcard vending machine from the "Actien-Gesellschaft für automatischen Verkauf" of Neukölln: this vending machine was probably installed in Potsdam and was used to sell postcards of the Sacrow district (Potsdam). This remarkable museum piece (lot No. 6371) it's from around 1900/1910. It is being featured by Stade at the starting price of €1,000.
Remarkable sales on Delcampe
To conclude, as usual, here is a peek at some of the most interesting sales on Delcampe. Topographical maps are always very interesting when they don't feature frequent, usual motifs. This is the case, for example, of a postcard from the French municipality of Lieusaint, in the Seine-et-Marne department near Paris. The postcard, from around 1910, shows a coach which likely operated in this municipality, which now has 13,000 residents. It sold for €430. A postcard of the Lycée royal de la Weidengasse in Gdansk sold for €350. In the thematic field, the "Ver Sacrum" postcard (art and literary review published by Austrian plastic artists from 1898 to 1903) sold for €308 after a long bidding war. Raphael Kirchner is also still in great demand! Complete series are of particular interest and are sold at decent prices on a regular basis. For example, here is a series of 10 copies of the "Derrière les Coulisses" edition, which changed hands for €540.
Author: Herbert Fischer (postcards_stamps)