A few tips to get off to a good start in numismatics
Published on 18 March 2021
I asked Bruno Visentini to help me talk to you about numismatics. Bruno is the president of the Fédération Française des Associations Numismatiques (French Federation of Numismatics Clubs). In this capacity, he agreed to answer my questions to help explore this wonderful passion.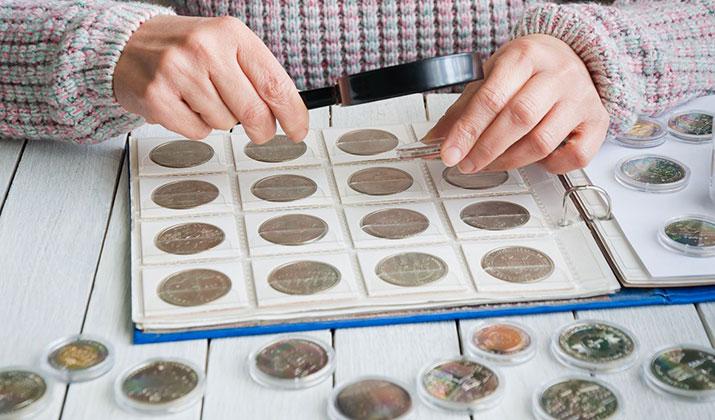 What is the best way to choose a numismatic collecting theme?
The decision comes naturally. In the beginning, you often take everything and, over time, some numismatic themes become more interesting than others. It could be history, Napoleon or the royals, but it's often related to the region you come from. Many people collect coins minted in cities like Toulouse, Lyon, Bordeaux, etc. because the cities
all had mints. Some inherit their father's collection and carry on.
What do you collect?
I started collecting Russian coins, from the first "Tmutarakhan" struck in 980, to the coins before Peter I. That allowed me to learn Russian history. After that, I collected French fractional coins (10 cents, 20 cents, 25 cents, ¼
franc, 50 cents, ½ franc), in exceptional condition (FDC – MS 65 to MS 70). The small units are difficult to find in FDCs because the relief is very fine. That choice taught me to appreciate the quality of the coins. My approach is that I would prefer to have 30 quality coins in my collection than 500 of average quality. Since I became a professional, I don't collect anymore because I always ask myself the same question when I come across an exceptional coin: should I let a customer enjoy it or should I keep it? I'm preparing a themed collection for my daughter (horses) from antiquity to our days.
What are the must-have tools to get started?
The most important thing when you start is to know what you want to collect. The most important tool is patience, but you also have to have many books on the topic. With digital, it's easy to get started. However, I prefer to read specialist books. When I started collecting Russian coins, I bought quite a few books on Russian history from the 18th and 19th centuries because they really described the history of the country at that time. As a result, you can have a beautiful library and coin collection. For the numismatics books, I tried to find the ones our predecessors had in their childhood, because, even though there are many errors and omissions, they contain far more detail than nowadays.
What are the most important aspects of a coin? What do you have to look out for?
A coin tells a story. I mean coins before the euro. Look: the frank with a horse. It's the first French frank. This coin was issued in 1360 to pay the ransom of John II the Good (1350-1364) when he was a prisoner of the English. On the obverse side is John II the Good on his horse with the following inscriptions: IOHANNES DEI GRATIA • FRANCORV REX, which means: John, By the Grace of God, King of the Franks. The reverse side has a fluted cross with leaves emerging from it, and a four-lobed leaf at the heart, in an angled quatrefoil decorated with palmettes and bordered by four trefoils with the following inscription: XPC VINCIT • XPC REGNAT• XPC IMPERAT which means: Christ conquers, Christ rules, Christ commands.
On the obverse is the symbol of the authority which struck the coin (portrait or monuments for commemorative coins). On the reverse side is the main motif with the face value. Tail = reverse/Head = obverse
How do you find new pieces for your collection?
Most of the time by attending collector and numismatic exchanges and trade shows. Networking also brings quite a few opportunities. I'm cautious about the Internet because all coins are strikingly similar. In this case, the description and the photos are very important to ensure the quality of the coin and to only buy what you really want. If you buy on the Internet, you should go to collector sites like Delcampe and professional sellers to avoid any bad surprises.
I personally like to have the coin in my hand to know if I'm going to enjoy it or not. I have often had a superb coin in my hand and not felt anything. So, I didn't buy it and I waited to find another one.
Is it easier to collect banknotes or coins? Why?
They are two different kinds of collections. A banknote is more fragile because a fold or the counting marks puts down the price, so you have to be very careful. It's easy to collect, because you can find anything you want. If you collect French banknotes, you can find all of them. Of course, you'll have to pay the price for rare banknotes, but generally speaking, you can find them. In June 2018, I had the good fortune to buy a binder of French banknotes.
There were very few banknotes and they were of very average quality, but there was also an 1848 black type, hand signed 100-frank banknote. The banknote wasn't pretty, because it was missing a piece. It had been scotch-taped, but it was only the fourth one known in France.

What does a numismatic club provide its members?
A numismatic club is there to answer your questions and your expectations. You can discuss your favourite topics at monthly meetings. A numismatics club provides the opportunity to update your collection after exchanges with other members.
In my opinion, in order for a club to function properly, it has to provide solutions and help to its members, regardless of their age. Every new member must have a sponsor in the club so that they can exchange their ideas and their points of view about numismatics. Every member must share their knowledge. As a result of the inventory of French numismatic clubs I'm doing now, many of the club presidents have asked me how to attract young men and women to numismatics clubs. I initiated a discussion on several social networks for 48 hours. The results were quite interesting. We're finalising the analysis.
Is it easy to complete a collection?
That's quite a question!!! Everything depends on whether you stay focused or not. Let me explain: If you want to collect French coins from the Fifth Republic, with a coin of each type, it's no problem, you'll be successful. On the other hand, your goal should be to improve the quality of your collection. In that case, you'll continue to look for Fifth Republic coins you already have, but of better quality.
On the other hand, I have a friend who only collects "1-centime Napoleon III hatless" coins. He's looking for every year and every workshop, all of superb quality. If that was all, it wouldn't be a problem, but he's also looking for all of the trials and proofs of the coin. As a result, he'll never be able to get everything because some coins are only known to be available in one or two examples. I'm very proud of myself for having convinced him to buy the gold 1-centime Napoleon III hatless coin of which there are only three known examples. He obviously doesn't have many coins in his collection, but it's an exceptional one.
What advice would you give someone who wants to get started in numismatics?
First, be patient and enjoy your purchases!!! You have to take the time to put a nice collection together. Don't hesitate to buy books about your collection theme. The more books you have about your topic, the better you'll know it and the more unassailable you'll be.
Try to decide on a collection topic to avoid buying just anything.
Choose quality over quantity. Better to purchase one €50 coin a month than 50 €1 coins. You'll be happy you did later.  Ask professionals for their opinion.
Become a member of a numismatics club to share your passion. The most important thing in coin collecting is taking good care of the coins.
Never clean your coins. A shiny coin isn't worth more!!! Try to ensure that the quality of your collection is consistent. Don't jump at so-called good deals. Don't be afraid to ask other collectors questions.