The postcard barometer
Published on 11 May 2021
We are very pleased that Herbert Fischer has accepted to give you a regular update on the evolution of the postcard collection market on our blog. The articles are produced with the kind support of the Daniel Stade auction house.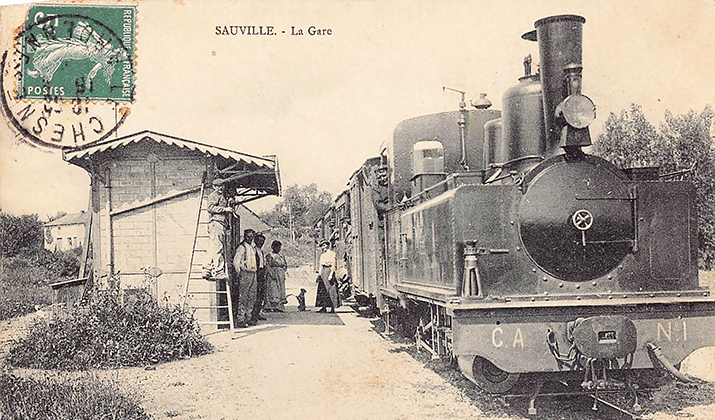 I already touched on the impact of the Covid-19 epidemic on our shared hobby in the last edition of the postcard barometer. Auction houses are setting new records. Postcards, stamps and coins, as well as many other collection items, are in greater demand than before. We're even seeing a real craze in certain segments of the market.
This isn't surprising, because we currently have more time and money than ever. For example, when travel has to be cancelled and we spend our holidays between our own four walls, we have plenty of time to dedicate to our passion. We can use the money saved to make another acquisition to complete a collection… Or, even start a collection in a new field!
Is collecting a profitable investment?
The trend may also have intensified lately because more and more banks and credit unions are literally forcing their customers to withdraw their savings from their accounts. The keyword here is "negative interest". Not only is no interest being paid on accounts, on the contrary, customers must pay interest for the banks to keep their money for them! The term "penalty interest" is often used in this context. To avoid this term and its negative connotation, some banks prefer to speak of "deposit fees".
In order to avoid these fees, customers are often offered "in-house" financial products, which are not always risk-free. Some customers who have placed their money for years in fixed-interest securities or a traditional savings account don't always have the experience required to understand these financial products, which are often complex. As a result, to avoid negative interest rates, the money is often withdrawn and invested elsewhere. However, investment options are limited: the price of real estate, shares and precious metals have been reaching historical highs. In addition, this type of investment is not for everyone.
The current market situation for buying and selling
That's why people appear to be investing part of the money they free up in collection items: old postcards, stamps and coins… It therefore makes sense that the prices of these collection items are increasing, like the stock market and real estate.
Of course, this kind of market also creates opportunities. Have you been thinking about selling part of your collection or some of your duplicates for some time now? The current situation is very favourable in this respect. Even items that were somewhat difficult to sell before are currently finding buyers fairly easily. The incoming money will enable you to complete your existing collections or fulfil a wish by starting a new collection. You can, via a site like Delcampe or an auction house. As you probably know, modern marketplaces like Delcampe combine both: they also carry catalogues from many international auction houses and you can take part in all of the sales and auctions on the website.
New Stade-Auktionen sale in June
The Daniel Stade auction house is currently one of the leaders for old postcards on the German market. They will be holding their 56th sale on 5 June 2021. The very wide-ranging offering will include about 15,000 lots. As Daniel Stade told me during a private conversation, this sale will include some real treasures. Let yourself be surprised: take your time to go through the offering. You can then enter your bids simply and efficiently via Delcampe. Over 3,100 bidders took part in the last sale and over 40,000 bids were made. Would anybody still dare to say that postcard and stamp collecting is past its prime? I don't think so! On the contrary, our shared pastime has gotten its second wind, which no one had really anticipated.
A few remarkable sales
As always, let's take a look at some interesting items sold on Delcampe: China continues to experience a stamp and postcard boom.
A postcard with the flag of the Republic of China (1912-1928) sent from China to Luxembourg in 1912 found a new owner. The starting price was €5 and it eventually sold for €252. Another postcard from the same correspondence with the flag of the Chinese army sold for €228. A postcard of Hankou in China (Hankou/Wuhan district) also generated a great deal of interest. The postcard shows a traditional Chinese doctor with his instruments, which seem Spartan by today's standards. This postcard was also sent to Luxembourg in 1908 and sold on Delcampe for €338. Interesting postcards were also sold in the traffic and transport category over the past weeks. Many sold for very high prices. A postcard of the little train station of the municipality of Sauville in the Ardennes sold for €248, despite some minor damage (postcard at the top of the article).
Growing interest in artists' postcards
One card in particular stands out in this field. Raphael Kirchner designed the poster for the "First general exhibition of the lithic industry – Vienna" in 1910. A postcard was also printed with the same design. This card is extremely rare and very sought after. At Delcampe, an example in good condition was offered and sold for €800 in March.
Delcampe has clearly become a leading platform for artists' postcards, some of which are of very high quality. For example, a Wiener Werkstätte postcard ("Inspiration" by Rudolph Kalvach) recently changed hands for €700. First-rate postcards by Alphonse Mucha, Mela Köhler and many other famous illustrators and painters are sold on the website at very good prices. Some of the postcards may not just be of interest to collectors, but will also be a good investment in the current context, as explained above.
Author: Herbert Fischer (postcards_stamps)