Dear Santa Claus, I want to be a good stamp collector. Please bring me…
Published on 9 December 2021
What do you need to get started in stamp collecting? That's the question we asked twenty experienced stamp collectors. Here are their answers... A great list for Christmas!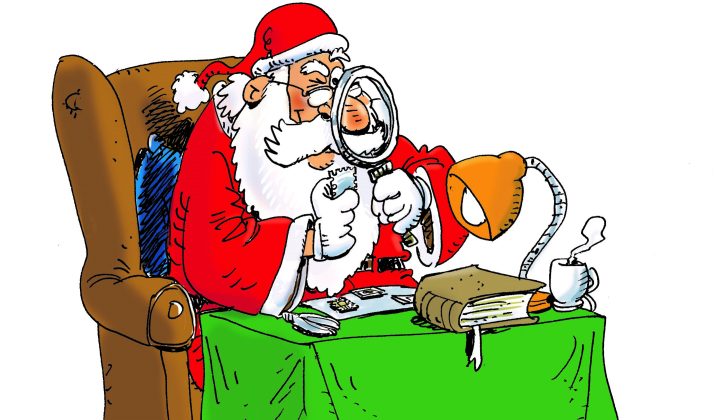 No. 1: The right paper documentation
Stamp catalogues, a full library… according to many stamp collectors, they're essential! And it's true. How can you analyse a stamp or a letter without the right documentation? A critical mind and reliable documentation are the basis of all research.
No. 2: Stamp tongs
Stamp tongs are an indispensable tool for stamp collectors because they are required for handling stamps without damaging them. There are several different types. You have to find the right one for you. Shorter, longer, round tip, pointy tip… opinions differ. The most important thing is to find the one that meets your needs. You'll master it very quickly!
No. 3: A magnifying glass
To see details, varieties, read things written very small on a stamp, postal marks, the contents of a letter, etc. you have to have a good magnifying glass. They are available at every price level depending on how good the tool is and if you want one with built-in light, which appears to be very helpful.
No. 4: A good binder and the right album
The materials required to store your collection are also a must. The binder is a requirement because it's the intermediate step between bowl and album. You can put your stamps in it after sorting them and before putting them in an album.
There are several formats of binders and albums with 8, 16, 32 or 64 pages, with white or black pages and a transparent sheet between each page to protect the stamps. They have their place in the library and must be stored upright.
Collectors can put their stamps in their binder as they please. The black or white cardboard pages have 5, 10 or 12 transparent rhodoid strips to hold the stamps. The binder can also be used to store duplicates by grouping them by country, type, etc. Each stamp should have a little label with its number, value and the price you want to sell it for…on Delcampe, of course!
No. 5: A computer, an Internet connection and Delcampe!
Half of the stamp collectors I spoke with gave this same answer. Nowadays, research and the Internet go hand in hand. Stamp collectors understand the possibilities provided by the Internet in terms of documentation (while maintaining a critical approach) and for purchasing collection items. In this respect, Delcampe is their main ally for rare finds.
Those were the five top answers. But they aren't the only ones: a perforation gauge (to count perforations), UV light, scanner, exhibition sheets, bowls. The equipment used by stamp collectors can be extremely useful. And all of the equipment is available at a good price on Delcampe! Explore this category on Delcampe.