The postcard barometer
Published on 13 December 2021
We are very pleased that Herbert Fischer has accepted to give you a regular update on the evolution of the postcard collection market on our blog. The articles are produced with the kind support of the Daniel Stade auction house.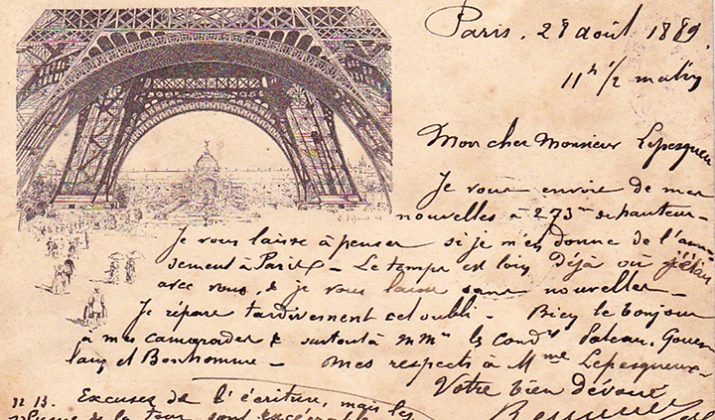 By the time you read these lines, the year-end celebrations will be upon us. Just a few more weeks and 2021 will come to an end. It will have been a very eventful year in many respects, with both very positive and not so positive events. Covid continued to impact our daily lives, and there are fears that we will still not be able to move around as freely as we would like in the coming year.
Christmas purchases, a family stroll around a Christmas market or a joyous New Year celebration will probably only be possible with certain precautions in place or will have to be cancelled altogether. However, collectors will certainly not be bored because, as you know, the winter months are particularly favourable to the practice of our hobby at home.
A very special gift idea: personally selected postcards!
Johann Wolfgang von Goethe allegedly once said: "Collectors are happy people". How would you like to share this feeling with your friends, acquaintances and family or your friendly neighbours this year? You likely know their leisure activities and their preferences or, you may know where the spend their holidays. You may also know the place of birth or the profession of the person in question. What if you gave them some historical postcards as a gift this year? Why not make a list and try to find a beautiful postcard for each person: framed – or with a very nice mount – in nice wrapping paper, the postcard will be an unusual and very personal gift which will be very different from a store-bought gift! You can find millions of different postcards on Delcampe, ranging from topographical postcards to themed postcards. You'll have fun finding the one that best suits each person. Your Christmas preparations may also have a positive secondary effect: you'll be sure to find a couple of nice postcards for your own collection which you can give to yourself as a little gift!
Results of the 57th Stade Auktion
Daniel Stade, the German auction house specialising in old postcards held its 57th sale in early October. Over 11,000 individual postcards, lots and collections were available and, as always, Delcampe members were able to put in their bids directly via the Delcampe website. The sales rate was well over 90% and as Daniel Stade told us, high-quality items were in great demand and quickly found a new owner.
Special tip for the current market!
Given the current positive market situation, this may be the right time to part with some of your duplicates or postcards you no longer need. From time to time, it can be worth your while to look both at the cards currently for sale on Delcampe and at the postcards that have already been sold, which is very easy to do thanks to the search function! This will give you a better overall picture of the market and it will be easy to find out which items are in particular demand and those that are less so.
A few remarkable sales
As always, we would like to take this opportunity to present a few of the most interesting postcards sold on Delcampe over the past weeks. Postcards featuring train stations, scenes from train stations, travellers, trains arriving and leaving a station and other rail traffic details are among the most popular collection items in many countries! This means that demand is high and bidding is sometimes ferocious, as was it the case for a 1914 card showing a train leaving the train station of the small town of Luçon, in Vendée. At the time, the town had about 8,000 inhabitants. Postcards were only produced in small quantities in municipalities and towns of this size. As a result, it's difficult to find them: the new owner paid €243 for the postcard! A collection may have been completed in this case after many years.
However, as we know, some postcards are also difficult to sell. They are often postcards of known tourist spots. Some of these postcards are printed in large numbers and many similar items with the same view are available. These postcards often change hands for just a few cents. For example, that's the case for postcards showing the Eiffel Tower in Paris, although there can be exceptions: One of these postcards sold for €280 last October. At first glance, this is an incredibly high price! However, knowledgeable collectors will have  immediately noticed that it was a very rare item: First, the postcard is from 1889 and its predecessors from this period are generally much rarer and, therefore, much more expensive than postcards published later. In this case, however, another detail was also important: The Eiffel Tower was built between 1887 and 1889 and opened on 31 March 1889. This means that the postcard was mailed just a few months later (in August). As a result, it's probably one of the oldest postcards showing the famous building!
With respect to themed postcards, one particularly beautiful with a cat was once again among the best sales. The very rare postcard, by the German artist Arthur Thiele of Leipzig, shows a cat-woman with a scarf and roses. It was published around 1910 by Friedrich Eyfried in Düsseldorf. The postcard, with serial number "F.E.D. Serie 489" sold for €324!
Author: Herbert Fischer (postcards_stamps)