The David Feldman Auction House will hold an auction for the benefit of Médecins sans frontières
Published on 19 November 2020
On 3 December, the David Feldman Auction House will be selling exceptional stamps for the benefit of Médecins Sans Frontières (Doctors without Borders) to help this organization during the Covid-19 pandemic period. This charity sale will provide you with the opportunity to acquire a rare stamp while supporting a good cause.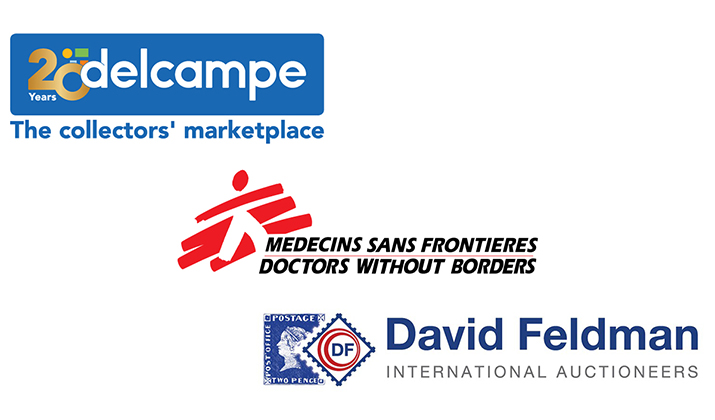 Delcampe immediately decided to support this sale by providing it with additional visibility on its website and through its blog. The sale will be held in Geneva, in compliance with all current health regulations.
Rare collectables that will surely make philatelists dream.
Before discovering the entire catalogue that has been put online today, we would like to give you a preview of some philatelic items that are sure to make many of our members envious!
Lot 70011- CANADA – THE "BLACK EMPRESS" – Estimate 250'000 Euros
A "Mona Lisa" of Philately – An Ultimate Representation of Beauty and Quality in a World Classic Rarity
The Most Valuable Stamp of British North America – The Icon of the Area
1851, 12d black, laid paper, the renowned and legendary mint example of this world class rarity, in an incomparable state of preservation, graced by its overall great freshness, very good impression also confirmed by an outstanding colour, with pristine gum which has been never hinged, very large and balanced margins all around being huge at bottom and thus proving that it most likely originates from the base of the sheet, clearly exhibiting the laid lines on the reverse; the beauty and delicacy of its design, displaying a gracious posture and featuring a slender neck and head of the Queen, combined with the immaculate quality give this example the ultimate characteristics for the discerning stamp collector, being the finest mint example in existence of the 1851 12d Black on Laid Paper. It was properly described as "the epitome of perfection" by Charles F. Shreve in the Spink-Shreves Galleries auction sale of this stamp. A wonderful item for the most advanced collector of Canadian philately, as well as for collectors with great taste and discernment looking for exquisitenesses in great rarities of the world
Lot 70125 – VENEZUELA – THE "FERRARY" COARSE IMPRESSION 1/2 REAL USED ERROR OF COLOUR – Estimate 120'000 Euros
1859-60, Coarse Impression 1/2r red ERROR OF COLOUR, instead of yellow or orange shade, possessing an outstandingly intense red colour and complete margins, lightly cancelled by La Guaira cds in blue (date illegible) leaving the design quite clear, small tear at lower left through the 'E' of 'Medio', pin hole at upper left and shallow hinge thin, of no significance for this charismatic rarity, of which only another three coarse-impression examples are recorded, including one mint single and one used pair, the latter with part of its design missing and repaired; one of the greatest rarities of Venezuelan and Latin American philately
Note: A similar single solitary error of of the 1/2r is in existence, but originating from the fine impression, is also recorded. According to the classification by Lt. Gen. C.W. Wickersham -accepted by Venezuelan experts and thus catalogued in the Scott and Stanley Gibbons-, the 1859 fine impression and the 1859-60 coarse impression are considered as different issues, both produced in different places: United States for the earlier and Caracas for the latter. Therefore five errors of colour are recorded in the first issue, with this example -offered for the first time to the public market in this sale- undoubtedly possessing the deepest red shade, and consequently increasing the visual contrast with the regular stamp issued in yellow or orange shades. The coarse impression error of colour in used condition is catalogued in Scott at US$350,000, whereas in mint condition at US$250,000; the mint example was recently sold in 2020 at auction in London for €156,000 (incl. buyer's premium)
Lot 70089 – INDIA – THE FAMOUS GANDHI SERVICE – Estimate 65'000 Euros
1948 Gandhi Official 10r purple-brown and lake, showing SERVICE overprint, superb mint never hinged single, with fresh vivid colours, wonderful centring, an excellent example of this famous George VI rarity and one of the finest examples available (SG £160'000)
Lot 70109 – RUSSIA – ONE OF SEVEN RECORDED – Estimate 30'000 Euros
Russian Consular Airmail. 1922, 24m on 3r, type II, SURCHARGE INVERTED, a very fine mint and well centered example, a great Russian airmail variety, with only one complete sheet of 25 issued, of which just seven stamps featuring the type II
These are just four items from this prestigious catalogue that we can only encourage you to discover! Don't hesitate to show your support and take a look at this catalogue on Delcampe!