At the Postal and Telegraphic Museum of Mitteleuropa in Trieste the exhibition 'Sfizi.Di.Posta. La storia attraverso la posta, la posta attraverso la storia'. From 3 to 31 March.
Published on 1 March 2023
The documental exhibition "Sfizi.Di.Posta. La storia attraverso la posta, la posta attraverso la storia" ("Sfizi.Di.Posta. History through the mail, mail through the history") curated by Marco Occhipinti and set up at the Postal and Telegraphic Museum of Mitteleuropa owned by Poste Italiane and directed by Chiara Simon, in Piazza Vittorio Veneto 1 in Trieste, will be inaugurated on 3 March at 11.00 am.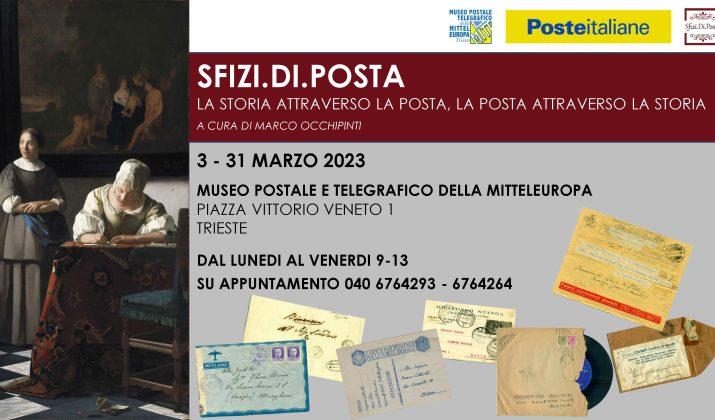 The exhibition, which will be open by appointment (Monday to Friday, from 9 a.m. to 1 p.m.; reservations at: +39 040 6764293 – 6764264) until 31 March, will display, on thirteen panels for a total of 156 A4 sheets, about sixty stories from the 19th century to the post World War II period told through postal documents, in the classic 'Sfizi.Di.Posta style'.
The Sfizi.Di.Posta project, launched on 11 April 2018, is basically a blog in which every Monday morning a 'sfizio' is published, an article in which curious ('sfiziose') stories are told, facts, events, people (sometimes known, sometimes anonymous), and to do that always a postal document is used: a letter, a postcard, a telegram, etc.
It is enough to scroll through the various 'sfizi' to understand that for Sfizi.Di.Posta the rare item is not the expensive item, but the curious one: a little girl writing to her parents, clandestine love affairs, vinyl sent through the post, coded messages, war worries, official telegrams, the wholesale cost of Sicilian almonds, postcards from areas affected by natural events, the correspondence of intellectuals in political exile, and many other curious stories.
Edited by the philatelist Marco Occhipinti, Sfizi.Di.Posta is accessible both through a dedicated website www.sfizidiposta.it and through a Facebook page www.facebook.com/sfizidiposta that, by the way, has recently exceeded the threshold of 12,000 followers, a huge number for such a specialized area.
The average 'follower' of Sfizi.Di.Posta is a woman between 45 and 55 years of age, and it's above all important to underline that 90-95% of Sfizi.Di.Posta's followers are not philatelists, which means that every Monday morning (when the 'sfizi' are published) more than 10,000 people not directly interested to philately read a story and look at a postal document. These data, therefore, emphasise the highly popular and promotional action of Sfizi.Di.Posta for philately at 360°.
«I sincerely thank», says Occhipinti, «the director Chiara Simon for inviting Sfizi.Di.Posta. The primary purpose of this project is to promote philately and postal history, but at the same time to tell stories that would perhaps fall into oblivion, to celebrate certain events, commemorate others, give credit and honour to the protagonists of the 'sfizi', and preserve and hand down the memory of all those facts and people through the mail, which thus truly becomes a witness to history.»