BANGLADESH 2023 FIP SPONSORSHIP INTERNATIONAL STAMP EXHIBITION
Published on 12 September 2023
Bangladesh Philatelic Federation (BPF) will host BANGLADESH 2023 International Stamp Exhibition to celebrate the Golden Jubilee of Bangladesh Independence. It will be the First International Stamp Exhibition physically held at Dhaka since the Independence of Bangladesh with participation of more than 15 countries from around the world and supported and sponsored by the Federation Internationale De Philatélie (FIP). FIP President Mr. Prakob Chirakiti is the Fip Coordinator and Mohammed Monirul Islam is the Secretary General & Chief Exhibition Coordinator for this exhibition.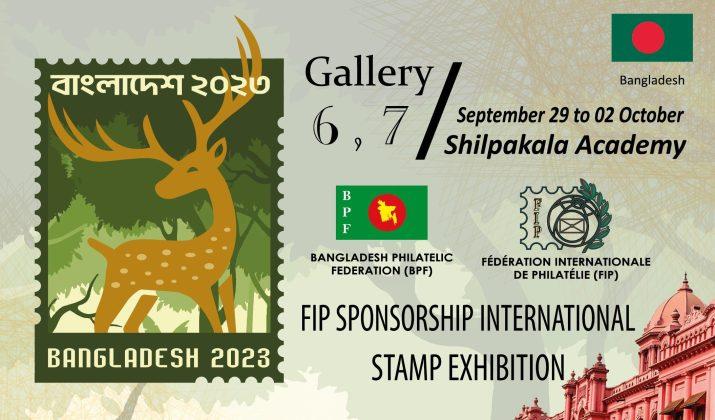 Press release from Bengladesh International Stamp Exhibition
The objective of the exhibition is to showcase Bangladesh to the world and promote the world of philately, to develop cultural exchange and mutual relations through postage stamps and encourage philatelists from around the world to share their collections and maintain positive collaborations with Bangladesh. The official exhibition website www.bangladesh2023.com The exhibition will be held from 29 September to 02 October 2023 at Bangladesh ShilpaKala Academy, Dhaka.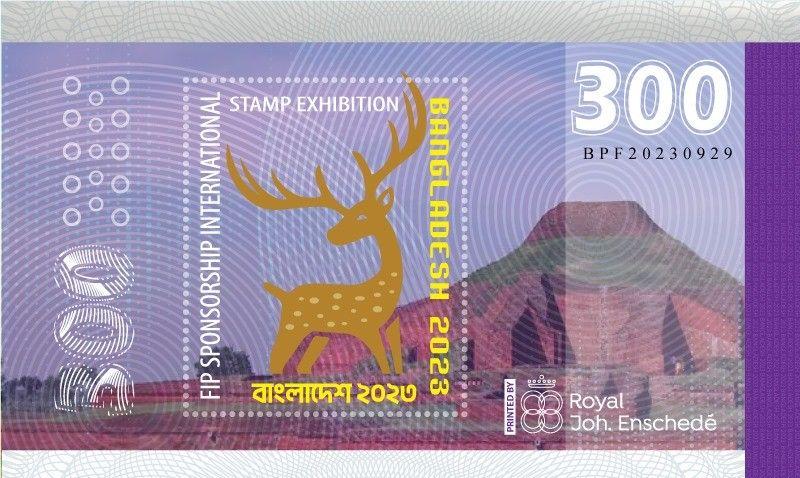 The Organizing Committee send invitations to selective countries due to exhibit frame limitations and from their Australia, Bahrain, Canada, China, India, Malaysia, Moldova, Nepal, Oman, Qatar, Saudi Arabia, Singapore, UAE & USA Federations nominate their commissioner's and jurors for this exhibition. More than 40 International invited guests, delegates, commissioners, jurors will be attending this event at Dhaka, Bangladesh from around the world and representing their country.
Among the most FIP Classes, in total 15 Traditional, 9 Postal History, 12 Postal Stationery, 3 Revenue, 11 Thematic, 1 Maximaphily, 2 Open, 2 Modern, 8 Picture Postcard, 11 Youth, 42 One Frame & 16 Literature Class entries accepted in this exhibition.
More than 400 frames of competitive classes exhibits will be on display. The jury team, comprising of experienced International Accredited Jurors, National accredited jurors and Apprentices from the participating nations will be put in a great effort to complete the judging in first two days. The Palmares night will be held on 1st October at the exhibition Official Hotel.
The dealer's area will be on Gallery 7 and in total 24 international and national dealer's booths are officially booked. First time in Bangladesh India Post and Fiji Post representing their Official Post office booth & Australia Philatelic Federation also have their booth to support the exhibition. Fiji posts already announced new Minisheet Stamps & Australia Post issuing two over print Minisheet Stamps on the occasion of BANGLADESH 2023, which all will be available at the exhibition dealers booth. Philatelic Passport will be available from Bangladesh Philatelic Federation Booth. The exhibit will be displayed on Gallery 6.
The supporting Partner & sponsors of this BANGLADESH 2023 exhibition are Bangladesh Post, Federation Internationale De Philatélie (FIP), Bangladesh Shilpakala Academy, delcampe & Fars Hotel & Resorts.