New Specialised Catalogue of Postage Stamps and Postal History of Argentina ("GJ")
Published on 14 June 2019
Recently published, and for the enjoyment of all Argentina and Latin America stamp collectors and dealers, this edition of the GJ catalogue is in a deluxe 2 volume set with updated information, new chapters, a detailed cataloguing system, and hundreds of new images.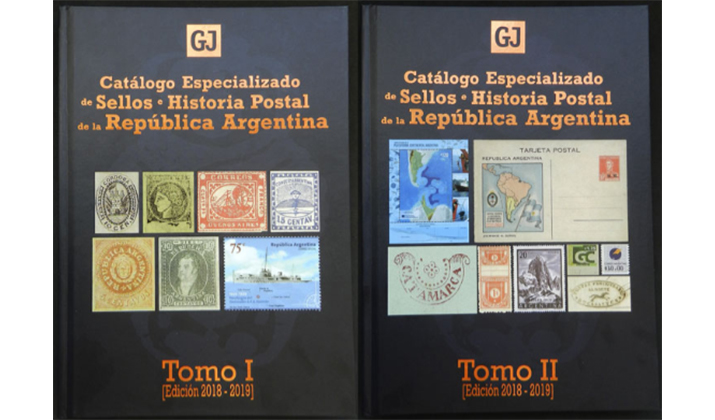 With fair prices that reflect the reality of the market, this is without doubt the most important work of its kind ever published on Argentine philately, an essential guide both for beginners and advanced collectors, also for stamp dealers and investors.
The new GJ catalogue lists all the Argentine stamps issued up to late 2018, as well as errors, varieties in printings, perforations and watermarks, etc., with images of all the catalogued varieties, and new explanations to help identify papers, printings and shades. It also includes complete chapters, with details and varieties, on: Official stamps, Telegraph stamps, Ahorro Postal, Variable value stamps, Postal stationery (old and modern), Pre-philately (with details of each mark), and Stagecoach mail (with good images of all the existing marks). In addition, free downloadable updates will be available for later issues!
4000 copies have been printed and are now available to the public worldwide.
Here is a selection, among the 728 pages of the GJ Catalogue:
Where do I buy the GJ catalogue?
Order it at your local stamp shop, or place your order in the website of Guillermo A. Jalil, www.jalilstamps.com, by clicking HERE, or by email to jalil@jalilstamps.com. Catalogues are shipped worldwide. Stamp dealers can also ask for quotes or place orders through these contact channels.