Salvador Dali, a crackpot artist!
Published on 17 September 2018
Dali, the painter, can be found on stamps. There are many Dali stamps, generally of his surrealist works. Let's take a look at these stamps and this unusual character.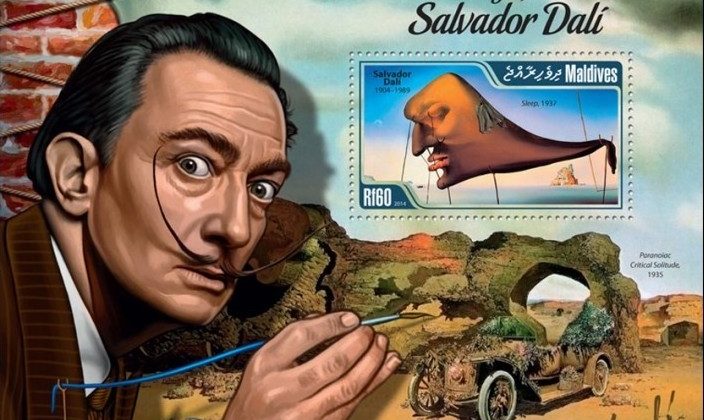 Dali stamps
The first country to put Dali on a stamp wasn't Spain, as you might expect, given the painter's background, but France. The first stamp was issued in 1979, in the artist's lifetime.
Spain began to pay homage to him in 1992 with a postmark representing the cosmic athlete used on 26 April in Figueres for a philatelic show. A series of stamps was issued in 1994 to celebrate Dali's ninetieth birthday. The stamps feature some of the painter's best known paintings.
2004 was the hundred-year anniversary of the painter's birth. Several European countries celebrated Dali with a stamp. Among them were France, Belgium, Romania, and others.
However, the reach of Dali's talent extended beyond Europe. Many countries around the world took advantage of this highly publicised figure and his original creations to issue sheets with the painter or his works, like the sheet from the Maldives shown at the beginning of this article.
Dali, a surreal existence
Salvador Dali was what you could call a complete artist. He was a painter, writer, sculptor, illustrator, jewellery designer and more. He was, especially, one of the most recognisable figures of the surrealist movement.
Born on 11 May 1904 in Figueres, he was the eldest son of the notary public Salvador Dali Cusi and his wife Felipa Dominech Ferrés. Four years later, his little sister Anna Maria was born.
His first exposure to painting was with the Impressionists in 1916, thanks to the collection of the Pichot family. He started school and drawing lessons the same year. His teacher was Juan Nunez who taught at the municipal art school in Figueres.
In 1919, he founded a paper with friends from school which he called "Stadium". It provided Dali with an opportunity to publish his first writings. At 21, he took part in the first Exhibition of the Iberian Artists Society in Madrid and held his first individual exhibition in Galeries Dalmau in Barcelona. The following year, Dali made his first trip to Paris, where he met Picasso and visited the Louvre. It was love at first sight with the City of Light.
He published the "Yellow Manifesto" with Lluis Mantanya and Sebastia Gasch in 1928. The Catalan Anti-Artistic Manifesto was a fierce attack on conventional art. This was Dali's first step in his artistic revolution. He spent the summer of 1929 in Cadaques where he was visited by several iconic members of the surrealist movement, notably René Magritte and Paul Eluard. The latter came with his wife Gala and their daughter Cécile. Dali and Gala fell in love at first sight. She left Paul Eluard and became the painter's muse. She also managed the couple's business affairs. Dali married Gala in 1934 in a civil ceremony and in a religious ceremony in 1958, 24 years later!
The artist published a great deal and produced several hundred works of art including paintings, sculptures, drawings…the master was a true jack of all trades.
Dali's talent was recognised well beyond Europe. He had his first exhibition in New York in 1931. His American adventure didn't stop there. He met the Marx brothers in Hollywood in 1937 and lived in Uncle Sam's country from 1940 to 1948. He met many major figures of the film industry including Alfred Hitchcock and Walt Disney, for whom he worked.
The Dalis moved to France in 1948. This was the start of the painter's nuclear mysticism period during which the atomic bomb was a leitmotiv in his paintings.
Salvador Dali was fortunate and was recognised in his lifetime. Figueres, his home town, paid homage to him with a theatre-museum. Dali also received the Gran Cruz de Isabel la Católica, the highest Spanish distinction. He was appointed associate overseas member of the Académie des Beaux-Arts of the Institut de France in 1979. He was made Marquis of Púbol by Juan Carlos; Dali had purchased Púbol Castle and decorated it himself a few years earlier.
Gala, the love of his life, also died that year, in 1982. Salvador Dali died on 23 January 1989 in Figueres.
He is as famous for his Art as he is for his unusual personality. Dali's eccentric moustache and the content of some of his interviews, in which he proclaimed himself the greatest genius of modern painting, leaves no doubt that he was a marketing genius. He knew how to get people talking about him to promote himself and his work.
Why not explore and buy the many Dali stamps available on Delcampe?