Regional' meeting provides plenty of variety
Published on 17 March 2020
Press Release from RPSL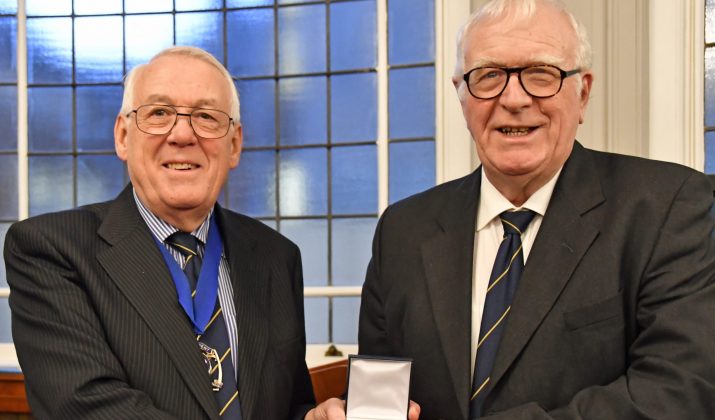 Extracts from the collections of members of the Royal Philatelic Society London living in the Thames Valley area were shown to the Society at its afternoon meeting held on 6 February. The displays had been coordinated by Dr Patrick Reid FRPSL, and clearly demonstrated the diversity of interests.
The displays embraced many aspects relating to Great Britain. From studies of the birth of the adhesive postage stamp and the history of the 1d lilac, to presentation cards for several issues and the 1948 Olympic Games set. From the Penny Postage Jubilee of 1890 to the development of stamp production at De La Rue. From late mail posted at the London Chief Office to the Scottish Additional Halfpenny Mail Tax, and the mail service operated by the Oxford Union Society.
The variety extended beyond Great Britaiu. Watermark varieties on Australian stamps; Queensland mail to the UK; Queensland Numeral issues; The 5/- postage due of Victoria; Tax marks on out-going mail of Victoria; Bahamas Queen's Staircase issue; Bechuanaland Protectorate; British Guiana Waterlow Lithographs; Colombia Transoceanico Airmails; Civil Censorship in Cyprus; Children's Evacuation Camps of Germany; Württemberg; Foreign cancels on the inter-War issues of Japan; New Zealand Advertisement stamps; New York Exchange Office markings; Man's Fascination with Gold.
Richard Stock FRPSL, commenting on the high quality of the displays, thanked Patrick Reid who in turn expressed his appreciation to all who had contributed with such a 'splendid range of material'.
Those wishing to visit the Royal Philatelic Society London at 15 Abchurch Lane, London EC4N 7BW (a short walk from Bank Underground Station), or be a guest at one of its meetings, are asked to contact the Administrative Office (020 7486 1044).