South Atlantic Islands start new season
Published on 18 September 2023
Press relese from RPSL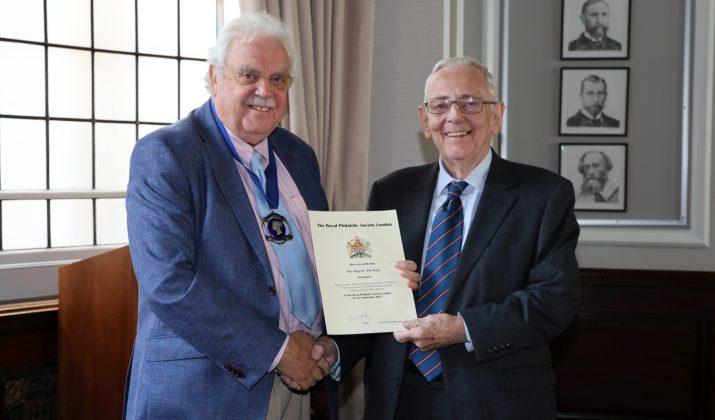 The 2023/2024 season of the Royal Philatelic Society London began in traditional style on 14 September with a display from the Royal Philatelic Collection presented by gracious permission of His Majesty King Charles III. The material, selected by Rod Vousden FRPSL, Acting Keeper of the Royal Philatelic Collection, featured material from the South Atlantic islands of Ascension Island, Falkland Islands (and Dependencies), St Helena and Tristan da Cunha.
This was the first time since the 2019/2020 season that circumstances had permitted members having the privilege of viewing material from the Royal Philatelic Collection at the opening meeting. That was also the season during which the Society first met at its new home at 15 Abchurch Lane in the City of London (close to Bank Underground Station). The new building was officially opened by Her late Majesty Queen Elizabeth II on 26 November 2019.
It was therefore poignant that, within the material from St Helena, was a first day cover of the set to mark the Coronation of King George VI in May 1937. The cover was addressed to HRH Princess Elizabeth of York, and was formerly in the personal first day cover collection of Her Majesty.
Following the Vote of Thanks, given by Kim Stuckey FRPSL, the President of the Society, Michael J. Y. Roberts FRPSL, presented Rod Vousden with a certificate of appreciation for providing the members with a display of outstanding material, much, such as original designers' artwork, probably never previously seen.