The most beautiful ambassador of philately remains without the slightest hesitation Audrey Hepburn. Not that she was a collector, but her participation in the film Charade in 1963 makes her an icon! Since then, philately has paid tribute to her. She is even on one of the most expensive modern stamps in the world.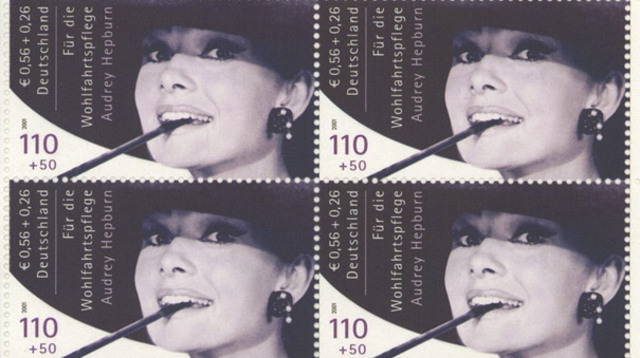 Who is Audrey Hepburn ?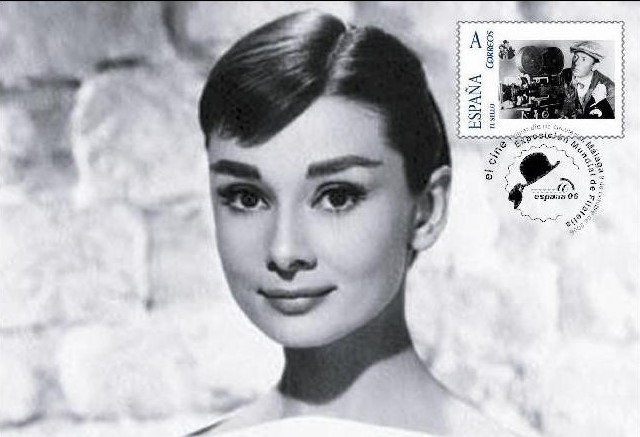 Born in Brussels in May 1929, Audrey Hepburn's birth name is Audrey Ruston.
At a very young age, Audrey Hepburn developed a passion for classical dance. She owed her grace and slim figure to this passion.
In 1935, Audrey's parents separated. Audrey went to live in England before returning to the Netherlands at the outbreak of the Second World War where her mother changed her name to Edda Van Heemstra to save her daughter from an English-sounding name.
The war years were very difficult for the young daughter. She suffered from malnutrition and depression. Malnutrition forced her to cut down on her dancing, as she no longer had the strength to exercise. Her height prevented her from leading a life as a ballet dancer and Audrey Hepburn was forced to change her plans.
After the war, Audrey chose her stage name. She will be Audrey Hepburn in honour of a probable ancestor of that name. She is therefore not related to the actress Katharine Hepburn who was also one of the great Hollywood icons.
She moved back to London where she worked as a model on several occasions while continuing her studies. It was at the end of the 1940s that she really began to take an interest in acting.
Audrey Hepburn began her acting career in 1948 with a small role in "Dutch in 7 lessons".
She had to wait a little longer to get a big role in the movies. In 1953, she played the role of Princess Ann in "Roman Holiday". This role will give her an Oscar and the recognition that will give her a high-flying film career.
Acting with the greatest actors of the time such as Fred Astair, Cary Grant or Gary Cooper, Audrey Hepburn took part in a series of successful films.
As regards her sentimental life, Audrey was in couple since 1953, with Mel Ferrer, with whom she had a son, Sean. The divorce of the couple in 1968 marked a turning point in her life. It was at the same time that she stopped her career as an actress.
She remarried the following year with an Italian psychiatrist named Andrea Dotti and had a son Luca. The couple lived in Rome but divorced in 1982. Audrey Hepburn shared her last great love story with the Dutch actor Robert Wolders.
After stopping her film career (she nevertheless continued to act a little longer), Audrey Hepburn decided to devote herself to a great cause: UNICEF. Until the appearance of her cancer in 1992, she was very involved in defending children throughout the world, particularly in Africa and South America.
Victim of cancer, Audrey Hepburn died on January 20, 1993 in Switzerland but will remain forever in our minds.
The superfluous cigarette

As we said at the beginning of this article, the very pretty face of Audrey Hepburn is used in modern philately and, above all, we can find her on one of the greatest rarities of the 2000s.
In 2001, Germany wanted to create a charity issue. Along with other big stars such as Marylin Monroe, Charlie Chaplin, Greta Garbo and Jean Gabin, Audrey Hepburn's photo comes directly from the film "Breakfast at Tiffany's" but with a special retouching. Instead of sunglasses between her teeth, the beautiful Audrey had a cigarette holder. This was not to the liking of Sean Ferrer, the actress's son. He refused the issue because it did not correspond to the values of the Audrey Hepburn Foundation and UNICEF.
But the German authorities took the lead and printed no less than 14 million of the photo-modified stamps. All but three sheets of this production had to be destroyed. Two are kept in the archives of the German Post Office, while the last one was part of Sean Ferrer's archives. The latter sold it as part of a charity sale for the benefit of the Audrey Hepburn Foundation and UNICEF. The sheet of 10 stamps was sold for €430,000.
The story was supposed to end there because the other stamps were expected to have been destroyed, but this is not the case. To date, five stamps have resurfaced after being cancelled. Sold between 2005 and 2009, they were discovered or rediscovered by lucky philatelists who had acquired them at very low prices. These stamps sold for between €53,000 and €135,000 (for a dated corner stamp). A real bargain for those who owned them.
But then where did they come from? The most plausible explanation is that a highly placed person in the administration received and used the stamps before the issue was destroyed. It is possible that a few more copies of these stamps are still in circulation…
This is all it would take to make a philatelist happy!
Are you a collector? Millions of stamps are waiting for you on Delcampe!