Fans of old toys and fine antiques are invited to the 22nd Collect-Hit and Brocantissimo fair on 1 October 2023!
Published on 27 July 2023
For its 22nd edition, the Collect-Hit trade fair will be welcoming you to Grand-Bigard, a few kilometres from Brussels.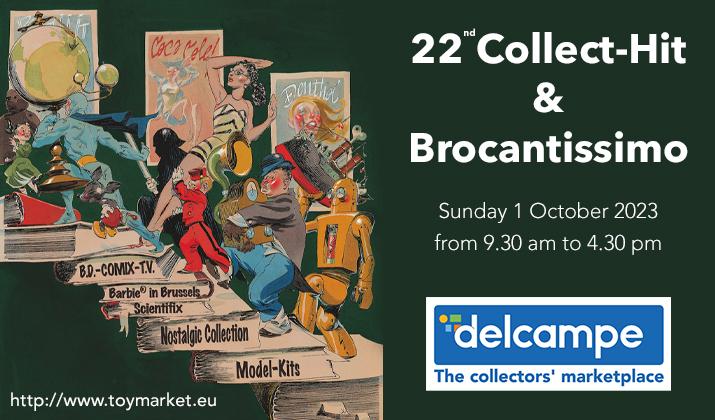 In addition to the traditional toys, dolls and comic strips, this year's edition will be giving pride of place to second-hand goods by adding a Brocantissimo section to its traditional Collect-Hit show. This year, there are four themes will be in the spotlight:
NOSTALGIC COLLECTION (31st edition): Antique toys, dolls, teddy's, miniature cars and trains, model making, advertising objects, enamelled plates, tin cans, posters and old collectible papers.
B.D. – COMIX – TV (22nd edition): Collectible comics, original drawings and strips (Hergé, Franquin…) TV series, US Comics, Action figures, Movies and gadgets, Mangas,…
BARBIE® IN BRUSSELS (23rd edition): the Barbie world, dolls, accessories, fashion…
BROCANTISSIMO (2nd édition): Beautiful flea market and antiques at affordable prices (Items from the years "1500 to 1975")
Delcampe is delighted to be a partner of this event dedicated to collectors!
Address:
Brussels Kart Expo
Alfons Gossetlaan 9
1702 Groot-Bijgaarden
Belgique
Schedule:
Sunday 1 October 2023 from 9.30 am to 4.30 pm