NOTOS 2021, Athens, 19-22 November 2021
Published on 4 May 2021
Under the Patronage of H.E. the President of the Hellenic Republic Ms. Katerina Sakellaropoulou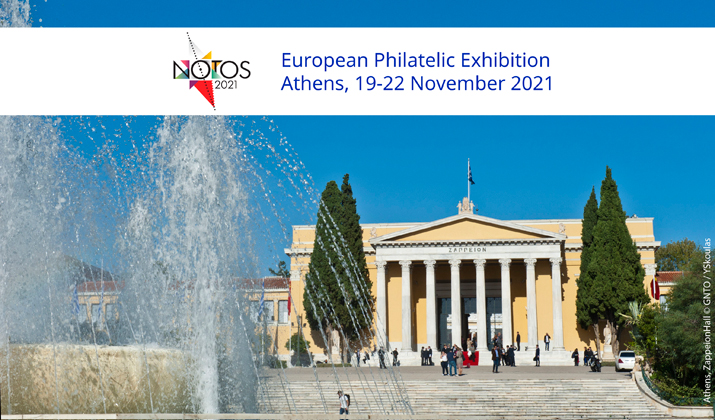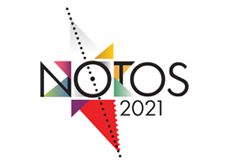 NOTOS 2021 offers a great opportunity for a jump-start of live international philatelic exhibitions in Europe following a long and stressful lockdown. The event will be a great gathering of friends sharing the same passion and a memorable celebration for every participant, whether an exhibitor, a visitor, a commissioner, a juror, whatever their role maybe.
The project kicked off in November 2017 securing partnerships with all the major philatelic establishments. NOTOS 2021 received patronage from the European Philatelic Federation (FEPA), the European Academy of Philately (AEP) and the International Association of Philatelic Authors and Journalists (AIJP), as well as the Recognition from the International Philatelic Federation (FIP).
The experience gained at the previous NOTOS 2015 provided the solid basis to proceed with a similar philosophy: combine high philatelic standards with low participation fees (€30 per frame or literature entry). NOTOS 2021 includes all FIP and FEPA Competitive and Experimental Classes, including Open, Modern, Picture Postcards and of course all forms of Literature whether printed or digital. Exhibits with at least one LG in a previous FIP or FEPA exhibition will compete for the Grand Prix in the "Classe des Champions". A major novelty is that the exhibition will also accept 2-frame and 3-frame exhibits, while in printed Literature, exhibitors will be pleased to know that one copy only is necessary to be submitted.
The Court of Honour will offer a delight for the visitors: Among the very special exhibits that will be presented to the public for the first time are: (a) rare documents in reference to the establishment of the Hellenic Post, (b) the die and matrix of the Large Hermes Head medallion plus all the seven 1861 printing plates and (c) together, under the same roof, at least 11 of the 13 known copies of the "Solferino", the elusive 1872 40 lepta colour variety.
The legendary Zappeion exhibition centre, built in the 1880s, is the most prestigious Conference and Exhibition Hall in Greece, right in the very heart of Athens. It is located next to the National Garden, only a few steps away from the all-marble Panathenaic Stadium, or a short walk from Hadrian's Gate, the Temple of Olympian Zeus, the Odeon of Herodes Atticus, the Acropolis, Plaka, Syntagma Square, the Parliament or the Presidential Mansion.
Visitors arranging to arrive earlier or those wishing to prolong their stay will have a chance to get on to the Greek countryside, on specially designed guided excursions by the NOTOS 2021 organisers themselves.
Stay tuned on the multi-lingual website (www.hps.gr/notos2021) and start packing. NOTOS 2021 is ready to welcome you, your companion, your entire family in Athens!