Exphimo 2023 – Motor vehicles
Published on 25 April 2023
Reserve 27 to 29 May 2023 and visit the thematic stamp exhibition Exphimo in Mondorf-les-Bains, which is the annual international meeting point for thematic stamp collectors from Luxembourg and many other countries.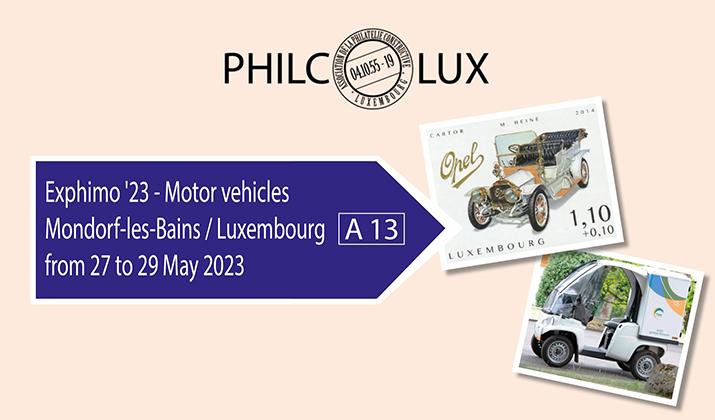 65th thematic stamp exhibition Exphimo
As every year, the thematic stamp collectors club PHILCOLUX invites you to its Exphimo exhibition. On the three days of the Pentecost weekend, you can discover there numerous collections.
This year, the focus is on the topic "Motor vehicles".
For ordering this year's special editions and for further information, please visit https://philcolux.lu/2023.htm
Informations :
address :
avenue des Villes Jumelées
Centre sportif "Roll Delles"
Mondorf-les-Bains L-5612
Luxembourg
Schedule :
Saturday 27th May and Sunday 28th May from 10 AM to 6 PM
Monday 29 may from 10 AM to 4 PM